Ruth Kedar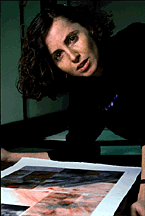 "More than making single images, I develop logical structures that create new visual progressions.
I work in many layers. My philosophy and aesthetics are the fibers that run through them, connecting, expanding. The creative process, this dialog between self and medium, evolves into visual languages-- their grammar ever changing to encompass new avenues of thought.
Therefore, my medium of choice is always a vehicle of variation and exploration. Currently I am working on several new art series, gestating a book on patterns, and developing a new deck of transformation cards."

Ruth Kedar, September 1995

I hope you will enjoy your visit to my Studio and viewing my work.
I would love to hear your responses, comments, etc...
Price lists and availability informationare also available upon request.

kedar@art.net
(650) 566-1900

The art presented here is for your enjoyment. Please do not alter it or use it in any commercial way without my permission.

Thanks for visiting and enjoy the show!

Navigating through the Studio with Hot Buttons
Between Shows
To make it easier to identify, browse and navigate through the various themes, each theme / page has been assigned an icon. Below is a legend of all icons used in the Studio:

Home Page

Artist Statement

Digital Art

Mixed Media

Monotypes

Playing Cards

Within a Show
The icons below are to navigate back and forward within shows that are longer than one page. (They are not active in this page)

Forward

Backward

These hot buttons are available at the bottom of all my pages. Please feel free to use them as you view the show.

Ruth Kedar
kedar@art.net
(650) 566-1900