Mixed Media by Ruth Kedar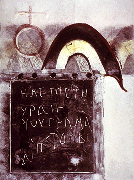 The various images shown below are the result of digital manipulations of original Monotypes

The original monotypes were scanned and further enhanced digitally, and printed on watercolor paper by an Iris printer.
Contrary to what might be expected from the digital medium, these prints are manually and individually proofed in order to create the best quality prints.
These prints are released as a very limited edition.

In this Mixed Media cycle various media are interwoven in the creative process.
For example, the Iris prints may be further worked on in other media, such as charcoal and pastels, to create a new one of a kind image.

<! start dictionary list>

<!dictionary title>

<!dict description. This text will be indented> Kings & Amulets - The Saga of Irene is a limited edition of six digital prints first shown at the "Action Experiment Art Show" and the "Currents Show" at the Holmes Fine Art Gallery in San Jose, California. (November 94 - April 1995.)

The Saga of Irene (mov 394 K)
The Saga of Irene (mpg 244 K)

All images in this series (including reproductions of the originals) are Iris Prints on Reeves paper. Image area is 11 x 15 inches.
Editions of boxed sets are also available at smaller sizes.

<!back to left margin>

Ruth Kedar
kedar@art.net
(650) 566-1900