European Art
Cristache Gheorghiu
Portraits and landscapes are my favourite paintings, inspired from the travels around the United States and Europe, where I currently reside.

Realistic Landscapes

Hills        Bushes          Summer  

Non-very-realistic paintings

Abstract 1

Almost Street

Abstract 2
Portraits

Usurer woman                Sly man                Old peasant woman

My pumpkin is the best



You can send jpg or gif files, through e-mail to christac@deuroconsult.ro
or just send the photo through snail mail to my full address which is to be found at the bottom of this page.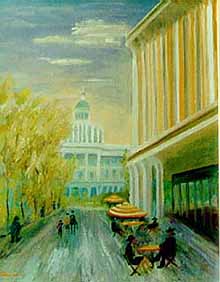 Rest
More paintings?


Click here for Art Critics' Opinions

Thanks for visiting my page. Let me know about your opinion, please.
I am looking forward it.

For ordering replicas of these samples e-mail me now specifying the title and size of the paintings which you want.



Other Romanian artists' works



My Thoughts
---

My full address:
Cristache Gheorghiu
Casuta postala 14, Oficiul 1
Brasov, cod 2200, Romania
Tel+Fax 40 68 322111

E-mail christac@deuroconsult.ro
Thanks to Art on the Net for housing my works