Interview by
Mika KAWAUCHI
The orginal japanise version
http://www.1101.com/planet/index.html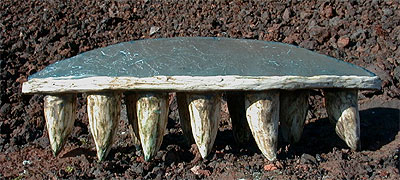 Feelers on the Move in Icelandic Lava
How does "nature ; especially of Iceland" have an influence
on your creation?
Spending part of summer time in the country and but then living rest of the year in the capital is bound to have an impact. The nature of Iceland is so full of opposites. Where my parents are from, the mouintains are very sharp and pointy and somehow go so well with the old turf houses that are mostly made of raw materials around. It is hard to explain what it is that really has formed me but to explain it a little in more than just words I have added to my website a site that you can enter to see what has influenced me in Iceland.
Seekers
http://www.art.net/~stina/Influences/IncluencesOnSculptures.html
There were lots of changes in your life in the year 2000 ?
It can been seen in your work made that same year; especially in the series "Feelers".
As a creator, do you think that "being a famale" is a merit?
for example, viewed from an experience of childbirth and so on.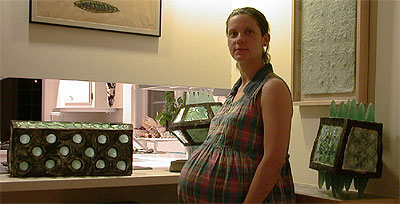 I don't think that being a woman has to change so much by having babies. I am sure that if my husband was also a artist he would also have changed his work. At least his work schedule is off :).I think it is very normal to take in what changes in your life. For me my work is like art therapy it really helps me understand me and my surroundings better.
I read recently in the whitepaper of the ministry of posts and telecommuniction in Japan
(www.mpt.go.jp/eng/Resources/top.htm).
that Iceland leads the world in the number of internet users.
This number is over twice of our country!
Do you think that internet is useful for your daily life?
How do you mainly use the internet ; e-mail only? net surfing,..?
Being able to send e-mail and surf is very important to me. I have been able to keep much more contact with my homecountry by e-mailing sometimes every day to my parents. Some friends would have been completely lost to me in the 10 years I have lived abroad if I had not keept in contact by sending them pictures of my growing family and written them about the things I and my family were up to.
The web has given me a very broad view of what is out there. Helped me to let people like you to know of my existance.
I probably spend average about 1-4 hours a day in front of the computer and that is most often to read or write e-mails, serching the web for things that are art related in some way that I might want to add to my site or I can somehow use. Then I do work on my web site alot or other artrelated things.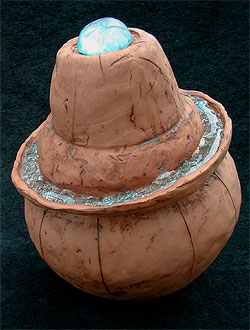 both Iceland and Japan are island countries.
Unfortunately japanese people hardly know your country.
But we might have something in common; as islanders.
Could you please introduce your country to the japanese people.
Well I have not lived there the last 10 years but I go home on a regular basis. It is a small community that has to live in a rather hard enviroment. It is never really cold there but also never hot. What I miss the most is the long summer nights. Here I can get daylight maximum to about 9pm in the summer but in Iceland haveing daylight at night time during the prittiest time of the year you are bound to spend much more time out doors in nature. Fish is another thing I miss from Iceland. You can get it soo fresh there.
I guess you've met many people via your site
since you were established.
Can you name a couple that impressed you?
For example, a person whom you could have only meet on the web,
because of living so far-away, and so on?
Yes my site has gotten lots of visitors specially in the last 3 years or so. So it has been very benefitial to have one.The main reason for the bump up of visitors is because I have been very busy linking my page. Because of it I have been asked to be in art books and magazines, been interview by art students and researchers that would never had known about me if they only had regular art books. I have become friends with artists that have found me through my site. Asked for slides to show in lectures or been asked to give lectures. Galleries and collectors come by and ask for or about work. So I have to say it was a good idea to start this site in 1996 and keep it going.
What was your yesterday's dinner ?
Well you hit on a good day.
I like to be inventive and because I have some problems with dairy products, beef and tomatoes but love lasagne and also like indian food. I came up with a version that contains both and tastes good. Just try it.
http://www.art.net/~stina/recipes/IndianLasagnaRecipe.html
For desert we had an icelandic rye soup. It is also very good.
http://www.art.net/~stina/Influences/RyeBreadRecepyForRyeSoup.html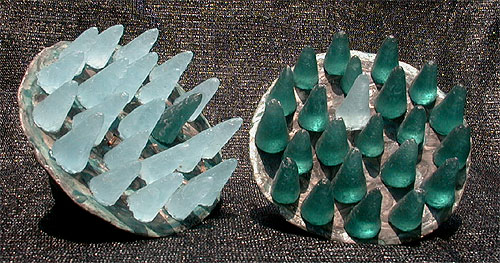 Many japanese people, many whom you will never meet are going to visit your site.
Do you have a message to them?
I will be waiting for a feedback from them. My guestbook is wide open to any type of comments about the site or my work. I am more than willing to answer any questions that come up looking through it and try to make my site better.
What is your latest favorite website -except your own site?
I have thougth this question over and over and have to say I don't have any favorit sites. The once I have found interesting I have linked to and can be found through.
http://www.art.net/~stina/OtherLinks.html
The day after I sent these above questions to Mika I found a really interesting site.
I therefore add that to my answer to question 8.
It shows very high class modern art and arcitecture and more good art related stuff.