Places of Interest

Dictionary of visual art (ArtLex)
Places to Learn Specific Art / Residencies:
Anderson Ranch Art Center Summer school. Residency
Pilchuck Glass School Summer glass school. WA. Residency
Public Glass glass classes year round. SF.CA
Penland School of Crafts summer , fall and spring classes. Residency. NC
The Crucible classes on different media all year round. Berkeley.CA
Wheaton Village glass residency
List of Art Centers across USA
Painters and grafic artists that I know in person:
Arngunnur Yr Gylfadottir also here
Mixed or One Media Sculptors that I know in person
Pamina Traylor also here
Work of some of my former teachers
John Toki I, II, III, IV, V, VI
Clifford Rainey.
Bertil Vallien
Gene Koss
Clay Jensen
Ruth King
Viola Frey
( still working on this part)
---
Take a look at other art work:
| | |
| --- | --- |
| AAArt ( has also educational information) | ArtEXPO (award pages) |
| | SOFA - Exposition of Sculpture Objects Functional Art |
The emperor's new clothes?
---
Newsletters providing info about juried exhibtitions and competitions and more:
Places to show your art

World Fine Art in NY rents out spaces
The Cricket Engine Gallery You rent the space. In Oakland, California.
Aftosa (clay and tools supplier) : Offers to show clay work for free on their site.
Ceramics Arts on the Miningco: Offers to show one clay work for free on this site.
Built Here: Offers to show two images and some text and a link to your page.
artresources: Place to have a page for free with your art.
artatoo: Place to have 4 images of your art and one of you for free.
A place to learn how to do better in getting you work out there:
Taking The Leap in Emerywille, Bay Area, California
How do do a better artist statement.
How to start your own art business
---
Galleries:
More Art Related - A-H, I-P, Q-Z
Other Art Links (logos)
---
---

Iceland Naturally ( lots of info)
Reykjavik (the capital)
Icelandic headlines of the month
The main library in Iceland (Landsbokasafn-Haskolabokasafn)
Icelandic Studies Outside Iceland
Icelandic Galleries:
Kirsuberjatred: Icelandic arts and crafts
Slunkariki: small gallery on the west coast of Iceland
Saevar Karl Gallery: Small hip gallery inside a fancy mens clothing store in Reykjavik
Gallery Mokka: A cafe/gallery
gallery@hlemmur.is ( not just on the web)
Gallery Samlagid: on Akureyri ( good quality)
The Icelandic Information Center for Visual Art
Big list of all sorts of Museums, Galleries and Cultural Places
Big list of all sorts of icelandic artists
a small cross cut :)
The naivist concrete sculptor :Samuel Jonsson
The naivist wood sculptor: Tryggvi Latrum
Another Carved Folk Artist: Helgi Kuld
The Painter : Nina Tryggvadottir
The photographer: Nökkvi Eliasson
The enviromental sculptor: Finna Birna Steinsson
The photographer: Pall Stefansson I II
The sculptor and stainglass artist: Gerdur Helgadottir
The mixed media sculptor: Brynhildur Þorgeirsdottir
The stone sculptor: Pall Gudmundsson
Vidio and installations artist: Anna Lindal
Glass in Iceland
People that have specific info about Iceland:
The Icelanders: A Study in Contradictions?
Icelandic Art Museums:
Kjarvalsstadir have also artbooks
Icelandic Art Books and Magazines:
Icelandic Clothes:
Typical icelandic winter clothing
How to work skinn clothing (icelandic text only sorry)
Icelandic Food:
Agriculture and Fishing
Lots of links about icelandic horses
Lots links to lots of Icelandic agriculture
Photos
Map of Iceland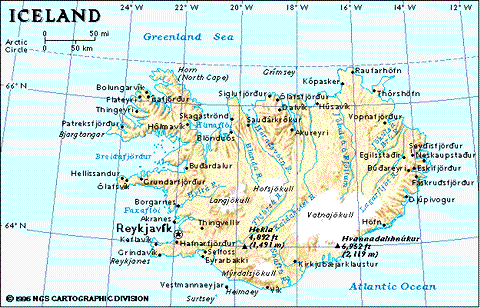 National Snow and Ice Data Center