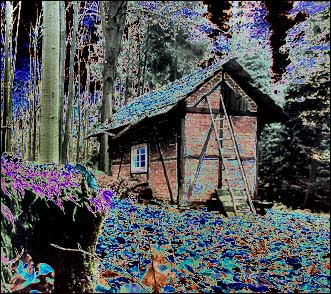 She'd offered that morning when I'd asked to leave early in order to clear the shack. The backhoe would be there, I'd been informed when leaving for work, the next day at dawn. "I'll make up the time tomorrow. I'll start early."
"No need for that, Alma. You're always early. Do you have anyone to help you?"
"No."
"I'll give you some help, then."
"I don't have that much stuff."
"There's always more than it seems. Besides, whatever the amount, it's easier with someone else along."
I had my doubts about that. Plenty of people just slowed me down and got in the way. That would be Olive's specialty.
and trailed me closely once we left the road and wended the way on the track through the forest. I watched her take the place in as she stepped from her truck. She ran her eyes over the shack, and saw a lot I'm sure, more than the old miner's shack that it was, but she studied the surrounding forest carefullly. She drew it in, taking a deep breath. "It's beautiful here, Alma. Quiet, beautiful, just rich with life."
I nodded. "I used to own it."
"You did?" In the moment her eyes touched mine before she let them move through the trees again I could see the questions there.
But she didn't ask any of them. She picked out the pieces of sculpture I'd left scattered wherever they had happened to be.
She cleared one piece of leaves and fallen branches and after studying it from all around she squatted before another piece, then reached out to brush a mass of rotted leaves from it before regarding it further. "You did these."
I didn't say anything. It wasn't a question.
She looked at me over her shoulder. "You did, didn't you? They are you." I nodded and turned away toward the shack. Its boards were nearly black with age.
She stood, and by slipping her hands into her pockets and gazing at the carpeted forest floor I knew she was clicking and ticking away, thoughts flying through her architect's brain. "This could---"
"I don't do it any more."
"You don't?" She scanned the pieces again. "But these are beautiful. They're done with power and with knowledge of all the woods possess." I started for the shack and she followed. "You did the pieces while living here?"
"My sister and I were going to do joint pieces. She was a potter. We thought wood, pottery, glass, we both did things with glass, we thought we could create some unique pieces. Arrangements."
Adonie nodded, agreeing. "Indeed. A fine idea." She had the sense not to say more, but it took an effort.
I hadn't meant to say anything at all. My fury, always so close under the surface, leapt up. I tensed, clenching my hands and my jaws to keep it hidden. It wasn't pride, or not in a sense I considered negative, but it was a certain sense of myself, and an aspect of my self-respect. Such a revelation, as speaking about my sister and thus my failure, I thought a weakness I should have been able to overcome. I should have been strong enough to keep my silence.
I had been discovering of late that that was not always possible with Adonie. I seemed to say things I never meant to reveal. They just came forth. Far too easily and far too frequently and I regretted them instantly and berated myself and somehow it happened again.
Olive waited like a miniature condor on the porch.
"Who's this?" Adonie nodded toward the orange cat curled on the kindling by the door.
"Andrew Not-Dead-Yet Quincy."
Adonie laughed. Amusement lingered in her eyes.
"I ask him that because he's always showing up at the wrong times. He thinks he lives here some times but he doesn't."
"I can see that," was Adonie's sober reply. I didn't smile and of course Olive didn't. I don't think she knew how. Andrew stretched and commented without opening his eyes.
more