Adonie stood in the threshold holding the lamp.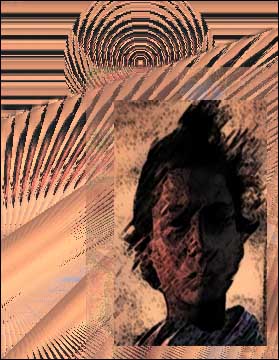 gave us a flickering light at the table. Olive chewed steadily, her chin an inch above the board. Her eyes had three objects of noted interest: Adonie, me, and her sandwich. Adonie used her plate to hold flat one corner of her charts. She was marking something up, measuring, marking again. An archaeologist she knew had asked for her analysis of whatever it was. I sat back feeling a little tired, wondering what the hell I was doing here and why I was letting it happen. I felt the black night encircling the house. I wondered, too, why Adonie was staying here. She was probably not another refugee. Did she sleep on site to draw in the atmosphere?
Misshapen triangles of pale yellow and gray-green marked her throat and a portion of her face. She stood there looking at me. Waiting.
She thought because she offered us space she was owed explanations of things that had nothing to do with her. I didn't have to tell her anything and if she didn't like it I could toss Olive into the car and we could leave. But Adonie's eyes weren't like that.
I hated it when my rigid adherence to honesty made me admit things like this.
But I still didn't need to tell her anything. She shouldn't expect it. "She's some sort of relative," I said.
A brow arched slightly.
"I don't know, exactly. Some old woman related to her father was looking after her and she can't any more. That's what the note said. Olive was on my porch one morning with the note and her bag of rags. And I'm supposed to do something about it. I'd never even heard of her before." A small digusted noise followed my words. I could see the joke, but I wasn't in the mood for it.
more