The rich had come here because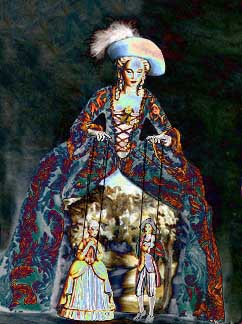 Not merely exclusive, but secret.
It was the thing. It was new, always new, which is why it could remain the thing for a longer time than most. They came because it was ridiculously costly. They were letting themselves be robbed and enjoying it all the more for that, laughing to each other about how and to what an amazing array of extremes they had been rooked. It was a game, at that stage, like truckers getting run to the curb on a model carway or pool sharpies losing to a base level machine.
Just for laughs.
What mattered crucially all other times did not matter.
It was a vacation.

I suppose.
They wandered through the dripping lighted caverns where niches proffered unique entertainment, absurd dialectical floorshows, bands, conjerers, fortunetellers. Game bars, food bars, pleasure alcoves.
Whatever.
But they really came to be shocked. Not merely rooked, not only rooked, but shocked.
Let me shiver let me shake let me quiver and let me quake. We cannot help being children. I mean human. We cannot help it. Our little brains are wired to jump at shadows if they move.