Ashes.
A Series of Undeveloped Mythologies
by Simran Gleason
"Ashes" exhibited in 1997 in the Coastal Arts League Museum at Gallery 92 West in Half Moon Bay, California.

This page includes a small sampling of pieces from the show.
(Click on the images for larger versions)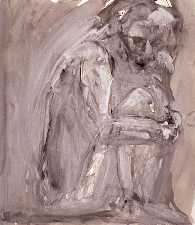 Artist's Statement:
"Ashes" is a series of undeveloped mythologies beginning with a cycle of dissolution and response. Descent into ashes: a chrysalis state where annealing occurs below the surface of awareness. The swirl of emotion, transformation and re-emergence into the body. Stories of entering into that filigreed network of fiber and bone, muscle and membrane. Isolation and relation: situated awareness.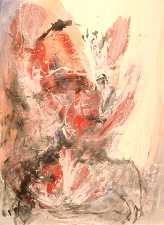 I find myself continually exploring questions of the embodiment of consciousness. I work in a figurative idiom for the richness of association that the figure evokes because of the closeness of our own bodies -- and the distance of others. Using a technique of aleatory figuration, I move paint around with paper towels, fingers, palette knives, and calligraphic brushstrokes until figures begin to appear. More paint moves and the figures coalesce or dissolve, interact and turn away. Occasionally I am allowed glimpses of the stories from these undeveloped mythologies.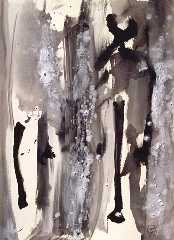 About the Artist
Simran Gleason paints in the tenuous space between abstraction and figuration, applying a range of mediums -- acrylic, sand, tar emulsion, pixels -- to whatever surface he can get his hands on -- paper, canvas, upholstery fabric, digital images. He has been showing his work in the Bay Area in solo and group shows for the past ten years, and has been exhibiting on the World Wide Web since 1994 (www.art.net/~simran). Although he aspires to paint on large environmental sonic sculpture, his current show at the Coastal Arts League Museum in Half Moon Bay is a series of small abstract-figurative works in acrylic on paper.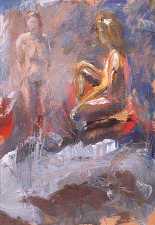 <! Simran's Home Page sig> Simran Gleason