December 21, 2005 - (Lisa)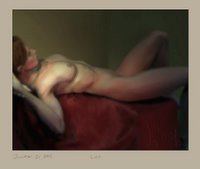 Live model session from December 21st at Dreamworks. This is Lisa again with a great pose, but a little tricky to get a composition that didn't consist of a strong line through the middle. I tried to rely on the lighting and angle of the elbow and knees to guide the eye. I'm happy with the lighting, there are some nice subtleties happening, especially in the cool fills and the warm bounce from her skin. I am even happier with my texture paint, I had great fun with it. I'll post an image later.
Some details about the lighting - this is a Maya Software render with 7 spotlights, one directional fill rig, and one shadow spot.
3 hours
Maya 6.5