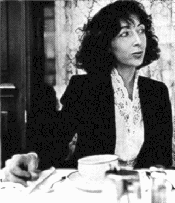 THE WORKS OF MELINDA CAMBER PORTER

Enter the Exhibit.
---
The Art of Love, a multi-media, one-woman, international traveling exhibition of Melinda Camber Porter's writings and paintings, was initiated by Les Services Culturels of the French Embassy in New York and has travelled to Boston, Chicago, Houston, San Francisco and Washington, DC.
Her first novel Badlands, set in the awe inspiring Pine Ridge Indian Reservation is a May 1996 Book of the Month Club selection. " Badlands is an extraordinary book. Its imagery makes one think of William Blake. Better than a novel, it reads like a fierce poem, with a devastating effect on our self esteem," Louis Malle.
In the Fall of 1993 the French Embassy, New York honored Melinda Camber Porter by mounting an exhibition of her paintings and books and producing a documentary film on her work. The exhibition was presented on the occasion of the publication of her most recent book, The Art of Love,which is a selection of 60 love poems illustrated by the artist's paintings. In addition, the event was celebrated with the re-issuing of Ms. Porter's Through Parisian Eyes, a collection of interviews with French cultural luminaries.
---
To view the complete on-line exhibition of Melinda Camber Porter's work, visit the camberporter.org.
---
The Multi-Media Exhibition
The Art of Love will have a multi-media video screening and reception at:

Sioux Falls Civic Fine Arts Center
235 West 10th Street, Sioux Falls, SD 57102 (605)336-1167

The exhibition shows through April 19, 1996 through June 16, 1996
The Film
"THE ART OF LOVE: The Paintings & Writings of Melinda Camber Porter (Blake Press, directed by Michael Camerini and music by Carman Moore) is currently running on Public Television nationwide.

The documentary film on Melinda Camber Porter's work, entitled The Art of Love, was sponsored by the cultural services of the French Embassy. The film has received rave reviews nationally and is of particular interest to all those who love France.
The most exciting news is that Public Television will broadcast the film, The Art of Love, beginning this fall nationwide on over 125 Public Television Stations. The film is estimated to reach up to 25 million viewers.

Please watch for it or inquire about the film's program scheduling from your local Public Television Station.
---
---
To contact Melinda Camber Porter, please send email to the curator of the show, Joseph Flicek

flicekjr@art.net