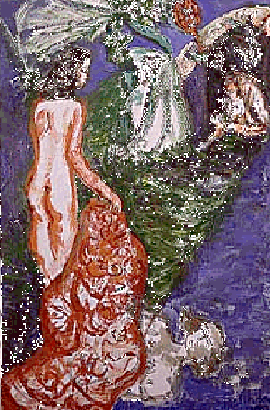 "WOMAN LOOKING AT THE PAST"
---
"Mother"
mother, you left,
you left
my bedroom, my window, my
body open onto
the black blow of the spawn-specked night.
mother,
I have lain night long
feeling the rough claw-marks
of winter time
on my flesh.
I have lain -
out of the window
the dead-white landscape
rustles its withered
trees
their lucid shadows
electric white
cover with substanceless sheets
my body.
night-long
the landscape of severed hopes -
grey corn, clay sheaths
perfumeless broken shell -
rough-edged
entered through
the open window, my eyes.
mother, you left.
Thank you for leaving the
window open for my escape.
Come and see as I make
my lurching leap out
to the black night
shelled earth.
mother you left me.
I leave myself now.
---
Back to the home page.
Point your we browser to www.camberporter.org to view the entire Melinda Camber Porter exhibit.