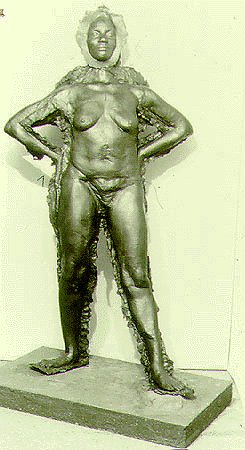 Best of PRSG 97
On The World Wide Web




William Iaculla

Ceremonial Peace Dancer
&copy 1989
(H: 65 .5", W: 17", D: 12" cast handmade archival paper, sculpture in the round)
I am an artist deeply concerned with the affairs of the universe; war; peace; weaponry and violance; and the machinations of politicians/dictators, among others. I have created a number of works in graphics and sculpture that make statements regarding aspects of the above.
The major themes of my work are derived from my love of classic art; people of all races and creeds; animals; the earth; fantasy and dreams; and superstitions and fetishes, often dealing with these in a satirical manner.
My iconography comes from a strong family with Greco-Roman/Etruscan heritage derived from the small Southern Italian town of Ricigliano where my father and my relatives were born; our coat of arms is the two-headed Janus.
Regarding "Ceremonial Peace Dancer," Series I, which is life sized-in the round, this sculpture is made entirely of cast hand-made archival paper with a bronze patina. The deckle edges represent feathers around the head, neck and legs. It depicts a dance with a plea for negotiation, not inevitable war. This work received a first prize award in the Bay California Arts '89 juried competition judged by the late John Caldwell, Curator of Painting and Sculpture, San Francisco Museum of Modern Art and by Ruth Braunstein, Director of the Quay Gallery, San Francisco.