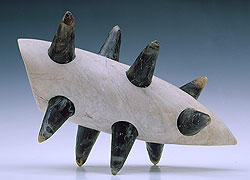 Multi Cone
13" W x 9" H x 9" D
17 pounds
Clay cast glass and marble
See Multi Cone at the IMF in Washington DC
See work photo: I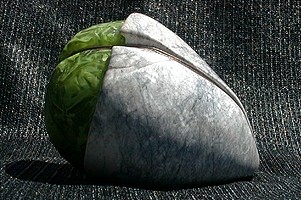 Life
10" W x 7" H x 8" D
25 pounds
Clay cast glass, marble and copper wire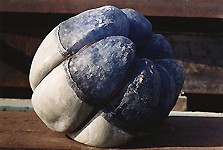 Glass Stone Bonding
Clay cast glass, stone (alabaster), copper wire and lead
12" x 14" x 10 1/2"
about 85-90 pounds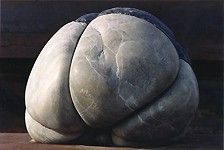 The back of Glass Stone Bonding
Glass Stone Bonding at Mill Valley Sculpture Gallery
Donated 2003:Stone Glass Bounding to National Liberty Museum.
Here is info about this museum, dedicated to peace.
---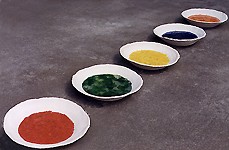 One Off
glass cast into 5 ceramic bowls
each 20" in diameter and 5" high
See them at LOOM2
Detail of yellow bowl at LOOM2
Picture of all the bowls at LOOM2
---
Now came the big move to the East Coast
I promised myself after this move I would take out all my unfinished work and all the material that I had lots of and try to use some of it up before I started on any new work.
Number one was my big pile of recycle
Copper wire.
My first piece over here that I completed was this glass piece that had been sitting in my studio for faar too long.
I just needed to weave some copper on to it. But how had been an issue for years.
In the slumping process one of the cones had tillted too much for the orginal idea to work.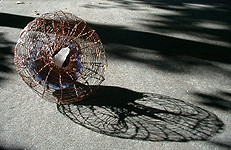 Double Net Cone
Clay cast glass and copper wire
20"L x 16 1/2" H x 18"W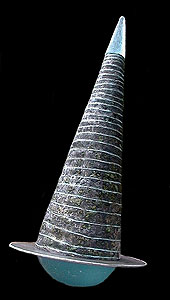 Blue Top Spindle II
Clay cast glass, ceramic and mild steel
28 1/2"H x 19" W x 14" D when it tilts
The glass in this piece is from a safety glass window that I salvaged.
See Blue Top Spindle II in my solo show in Iceland in 2000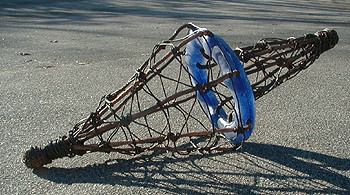 Netform with Blue Glass in Middle
Clay cast glass and copper wire and tubes
4 Feet long and 17" high by 19" wide
---
Every time I go home to Iceland I try to work some more in stone and metal.

The stones there are soft so it is soooo easy to drill through. I ended the year my making this piece of art ;)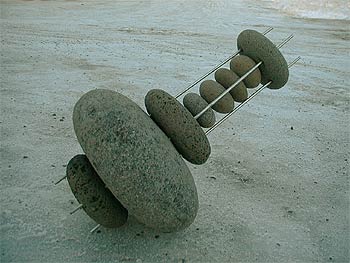 Life Form

Icelandic beach stones and stainless steel rods
about 2 feet long
As you can see by the picture above this is how icy the steet is by my parents house in Iceland on December 23th. It was about 3 pm when I took this picture and -2 Celcius. The sun is hitting the street further up the road. Not bad for being the first day for the sun to start to go up again. The sun came up that day at 11:21 am and went down 15:30 pm.