Work made in 1998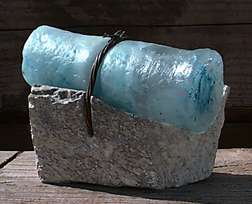 Cylinder Bound

Stone,cast glass and copper wire
8 1/5" x 6 1/5" x 6 1/5"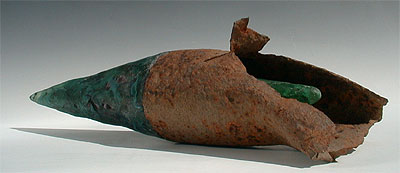 Hiding Cone I
Cast glass, and rusted steel
18" x 5" x 6"
See in show at MIE gallery in Durham, N-Carolina.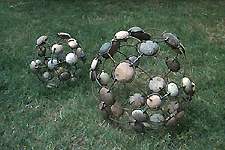 Earth Orbs

Stone and steel.
2 feet and 1 Foot
See Earth Orbs 1, 2, 3, 4 at A New Leaf Gallery in Berkeley. California
I made this piece to have on the invitation card for my museum show back home in Iceland for I had only about a month to complete work for that show.
All the pieces in that show were made there except Fjolgun (Multiply)
So see my museum show in Gerdarsafn, Iceland 1999: Fra steinum til steina.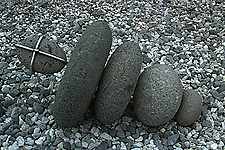 In Stone
Stainless steel and icelandic beach stones
~16" long
Made after my show in Iceland
Maybe that is how I felt after working so intensely in stone for that show.
See In Stone at the Gallery Fold in Iceland.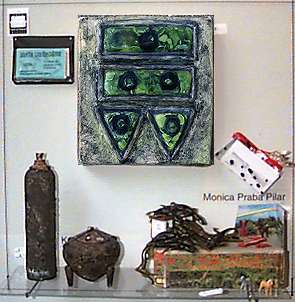 My cupe at the Pro Arts Gallery Open Studios with Kristin Doner and Praba Pilar
I showed the wall piece. It is made out of ceramic and cast glass. It is part of a wall series that I'm working on right now.
Here are two more from the wall series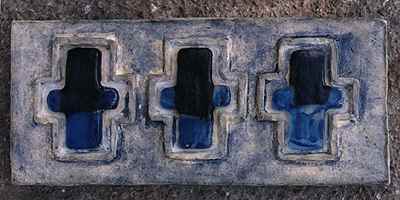 Three Lifes
(Það kemur sem kallar)

(wall work)
12" x 5 1/2" x 2"
Clay cast glass and ceramic
See Three Lifes with other work in my Solo show at Gallery Fold '00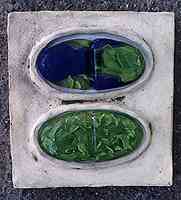 Orb-like
(Allt er það vænt er vel er grænt)
(wall work)
9" x 10" x 2"
Clay cast glass slumped on ceramic
See Orb-like at my solo show at Gallery Fold with other work
See my wall sculptures displayed at my solo show at the Richmond Art Center '99



Clay and Glass Cone
Ceramic and cast glass
19" x 11 1/2" x 11 1/2"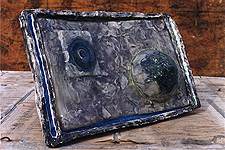 19 1/2" x 11 1/2" x 10"
27 pounds = 12 kilos
Clay cast glass, ceramic with glass cast into grooves on either side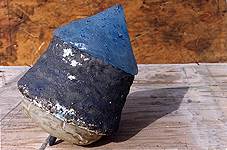 Blue Top Spindle I

10" x 9" x 8 1/2"
Clay cast glass with clay on surface and steel pin coming out of the glass.
The black part in the middle is electric fired ceramic.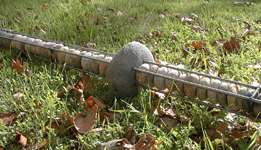 Stones and steel
10' x 14"
See Lifeline in a show in Seattle