Showing right now or just about to happen
(look at bottom of page for lectures and demos I will be doing)
Group/Solo Shows 2006
In Iceland
In California
Right now SculptureSiteGallery is having a show that has 4 sculptures by me in it.
CCA: Sculpture Selections. 100th Aniversary Exhibition. Sculpturesite gallery, SF, CA (Jan. 27th- April 7th)
Here are two images from the show at the SculptureSiteGallery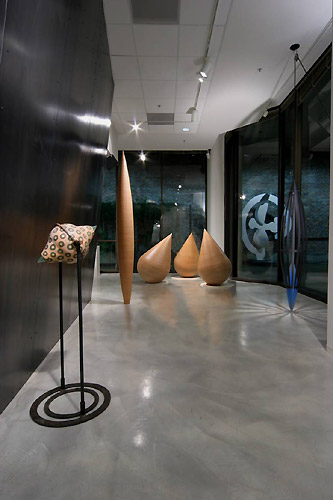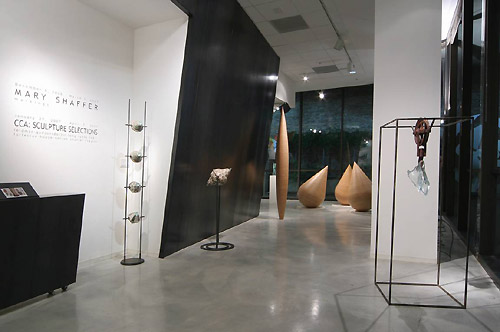 Sculpture, Henry Miller Library at Big Sur, CA (Showing until futher notice)( Net Form from 1993))
In North Carolina
Form in Translation, A Feminine Perspective on The Third Dimension. Meredith College Raleigh

(Oct 29th- Dec 3rd 2006) Still showing Energy Seekers.

The school is seeking funds to have the work permanenty on their lawn.
Synergy, Two person show. Rocky Mount Arts Center, Rocky Mounts (Dec 15th 2006 - March 11th 2007)
In Wisconsin
To see more pictures of work in shows that I have been in see Resume
Work in collections that can be seen by public in Iceland
Sjómannaskóli Íslands (Maritime School of Iceland)

Can be seen during school hours

In the lobby of the Energy Department of Husavikurbae in Iceland

(Orkustofnun Húsavíkur, Húsavíkurbær)

Thróunarsetrid , Árnagötu 2-4, Isafjordur (Ísafjördur), Iceland

During office hours M-F; 9:00-15:00

---

Work that can be seen in the USA

In Wisconsin, Kohler. Engine Form (Velar Form)

Located at Wood Lake shopping center in Kohler. The closest store to the work is "touchy feelie"
At the John Michael Kohler Arts Center. 608 New York Avenue
Sheboygan, WI 53081 Tel: (920) 458-6144
Wall piece
3 cup cafe
Franklin St. Chapel Hill, NC
Demos and Lectures coming up