Work made in 2001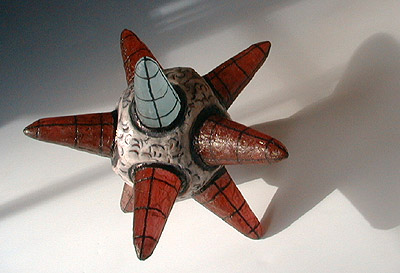 Free
(Frjáls)

13" x 9" x 9"
Clay cast glass and ceramic
Seekers I
18" x 18" x 18"
Clay cast glass and ceramic
See a picture of me with Seekers taken for an article by
Chapel Hill News photgrapher:
See Seekers and Blue Bonding at the Sculpture on the Green I, II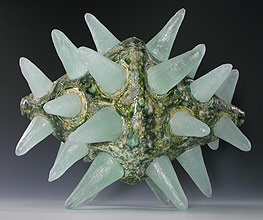 Emerging

16" l x 12 1/2" h x 14" w
Clay cast glass and ceramic
See it with a special stand that I made for it for the show Sculpture on the Green.
I then entered it into the 45th national Juried art show at Rocky Mount Art Center and there it got
So now it belong to the Rocky Mount Art Center Collection.
This year got a little shorter then I had planned. "Thanks" to breast cancer. I am fine now and will be useing this new experience in some smoke fired artwork next year.
I am already pondering a big muti cone clay/ glass piece wall work that I will start working on when I am done with the work for the three women show that will take up my time till the beginning of April.