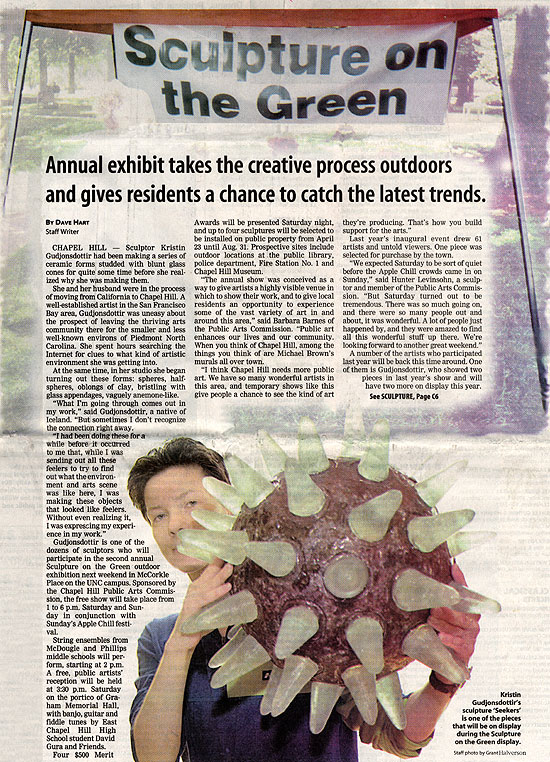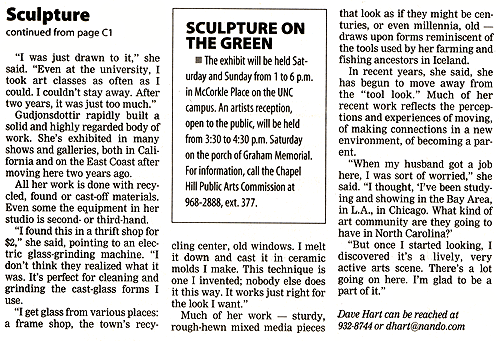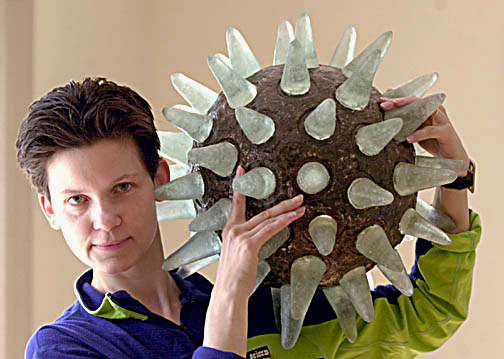 Picture of me taken by Grant Halverson the photograper of the Chapel Hill Newspaper
Here below is the text
By DAVE HART, Staff Writer
CHAPEL HILL -- Sculptor Kristin Gudjonsdottir had been making a series of ceramic forms studded with blunt glass cones for quite some time before she realized why she was making them.
She and her husband were in the process of moving from California to Chapel Hill. A well-established artist in the San Francisco Bay area, Gudjonsdottir was uneasy about the prospect of leaving the thriving arts community there for the smaller and less well-known environs of Piedmont North Carolina. She spent hours searching the Internet for clues to what kind of artistic environment she was getting into.
At the same time, in her studio she began turning out these forms: spheres, half-spheres, oblongs of clay,bristling with glass appendages, vaguely anemone-like. "What I'm going through comes out in my work," said Gudjonsdottir, a native of Iceland. "But sometimes I don't recognize the connection right away.
"I had been doing these for a while before it occurred to me that, while I was sending out all these feelers to try to find out what the environment and arts scene was like here, I was making these objects that looked like feelers. Without even realizing it, I was expressing my experience in my work."
Gudjonsdottir is one of the dozens of sculptors who will participate in the second annual Sculpture on the Green outdoor exhibition next weekend in McCorkle Place on the UNC campus. Sponsored by the Chapel Hill Public Arts Commission, the free show will take place from 1 to 6 p.m. Saturday and Sunday in conjunction with Sunday's Apple Chill festival.
String ensembles from McDougle and Phillips middle schools will perform, starting at 2 p.m. A free, public artists' reception will be held at 3:30 p.m. Saturday on the portico of Graham Memorial Hall, with banjo,guitar and fiddle tunes by East Chapel Hill High School student David Gura and Friends.
Four $500 Merit Awards will be presented Saturday night, and up to four sculptures will be selected to be installed on public property from April 23 until Aug. 31. Prospective sites include outdoor locations at the public library, police department, Fire Station No. 1 and Chapel Hill Museum. "The annual show was conceived as a way to give artists a highly visible venue in which to show their work, and to give local residents an opportunity to experience some of the vast variety of art in and around this area," said Barbara Barnes of the Public Arts Commission. "Public art enhances our lives and our community. When you think of Chapel Hill, among the things you think of are Michael Brown's murals all over town.
"I think Chapel Hill needs more public art. We have so many wonderful artists in this area, and temporary shows like this give people a chance to see the kind of art they're producing. That's how you build support for the arts." Last year's inaugural event drew 61 artists and untold viewers. One piece was selected for purchase by the town. "We expected Saturday to be sort of quiet before the Apple Chill crowds came in on Sunday," said Hunter Levinsohn, a sculptor and member of the Public Arts Commission. "But Saturday turned out to be tremendous. There was so much going on, and there were so many people out and about, it was wonderful. A lot of people just happened by, and they were amazed to find all this wonderful stuff up there. We're looking forward to another great weekend."
A number of the artists who participated last year will be back this time around. One of them is Gudjonsdottir, who showed two pieces in last year's show and will have two more on display this year.
Raised in Reykjavik, Iceland, she was originally headed for a career as a doctor, like her mother. But art kept whispering in her ear, and after two years in medical school she surrendered to its call, moved to California and began studying and creating art full-time.
"I was just drawn to it," she said. "Even at the university, I took art classes as often as I could. I couldn't stay away. After two years, it was just too much."
Gudjonsdottir rapidly built a solid and highly regarded body of work. She's exhibited in many shows and galleries, both in California and on the East Coast after moving here two years ago.
All her work is done with recycled, found or cast-off materials. Even some the equipment in her studio is second- or third-hand.
"I found this in a thrift shop for $2," she said, pointing to an electric glass-grinding machine. "I don't think they realized what it was. It's perfect for cleaning and grinding the cast-glass forms I use.
"I get glass from various places: a frame shop, the town's recycling center, old windows. I melt it down and cast it in ceramic molds I make. This technique is one I invented; nobody else does it this way. It works just right for the look I want." Much of her work -- sturdy, rough-hewn mixed media pieces that look as if they might be centuries, or even millennia, old -- draws upon forms reminiscent of the tools used by her farming and fishing ancestors in Iceland.
In recent years, she said, she has begun to move away from the "tool look." Much of her recent work reflects the perceptions and experiences of moving, of making connections in a new environment, of becoming a parent. "When my husband got a job here, I was sort of worried," she said. "I thought, 'I've been studying and showing in the Bay Area, in L.A., in Seattle. What kind of art community are they going to have in North Carolina?'
"But once I started looking, I discovered it's a lively, very active arts scene. There's a lot going on here. I'm glad to be a part of it."