Icelandic or California Stones used in the Work

Stone Bound Form no. 1
Stones and mild steel
(made in California)
1997
11" x 13" x 10"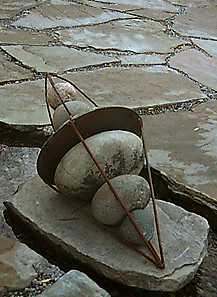 Stone Bound Form no. 2
Stones and mild steel
(made in California)
1997
25 1/2" x 11" x 11"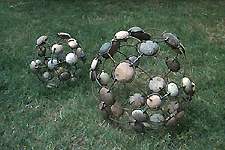 Earth Orbs
Stone and mild steel.
(made in California)
1998
2 feet and 1 Foot
See Earth Orbs 1, 2, 3, 4 at A New Leaf Gallery in Berkeley. California
I made this piece to have on the invitation card for my museum show back home in Iceland for I had only about a month to complete work for that show. So I made another one there with stainless steel
So see my museum show in Gerdarsafn, Iceland 1999: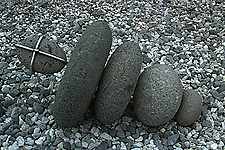 In Stone
Stainless steel and icelandic beach stones
~16" long
Made after my show in Iceland
Maybe that is how I felt after working so intensely in stone for that show.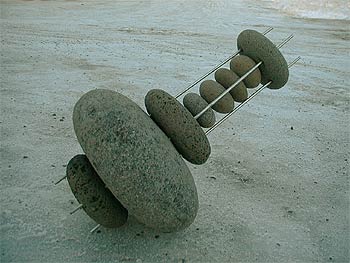 Life Form
Icelandic beach stones and stainless steel rods
about 2 feet long
Every time I go home to Iceland I try to work in stone and metal.
The stones there are soft so it is soooo easy to drill through. I ended the year my making this piece of art. I didn't want to have to weld ( in the 6th month of pregnancy) so the piece is just hold by the tension of the the four rods that go all the way through.