Residency in Wisconsin, Kohler. See resume page for more info.

see: Article

Work made in the Kohler foundry Oct 6 - Des21 1996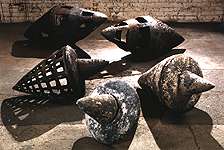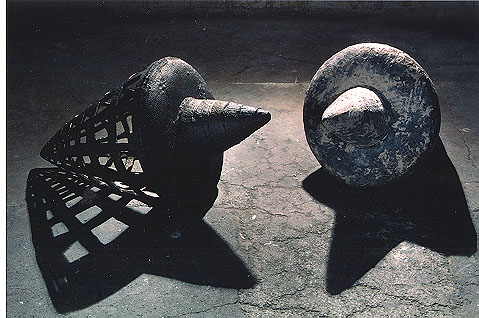 Solid Cone.

~ 3 feet long
Cast iron with clay on surface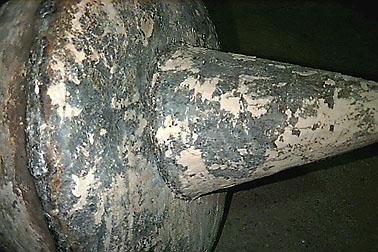 Detail of Solid Cone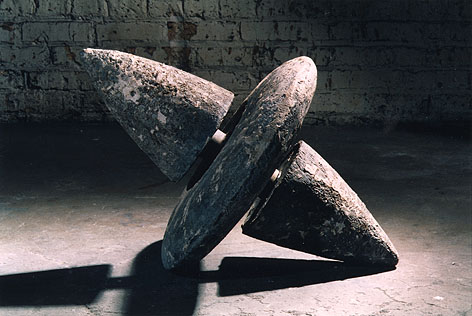 Spindle Form.
~ 2 1/2' x 2' x 2'
cast iron with unfired clay on surface

(Was in a show at Claudia Chapline Gallery, California June 6 - July 19 1998 See the pictures from there)
See picture of Spindle Form and Solid Cone together
See picture of Cone inside of a Cone and Engine Form together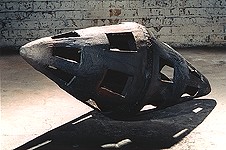 Cone inside of a Cone.
~ 5 feet long
Cast iron
Close up to see a cone inside
Picture of Cone inside of a Cone taken in Kohler Residency
See it in Vorpal Gallery, SF, CA

~ 5 feet long
Cast iron
In the permanent collection of the Kohler Company

See picture of Engine Form taken in the Kohler residency
42" x 18" 5". With stand 51" x 18" x 13"
Wood cast glass, cast iron and leather
In the permanent collection of John Michael Kohler Arts Center
To read about the making of Ancient Form click on the picture

Detail of Ancient form (back view)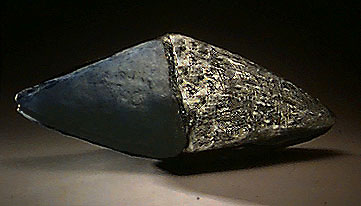 Blue Bonding or Bound Form
8" x 21" x 10"
Clay cast glass inserted with lead into chromed cast iron. Copper wire is inserted in to groves on edges of the piece.
Click on PICTURE to see Bound Form at Joan Roebuck Gallery
See Bound Form at Heather Farms
See Pictures from the show Presence. Jan 14 - Febr. 26, 1999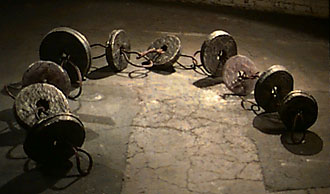 Pink Glass and Metal Links
Each piece about 12" wide and high
Cast iron and clay cast glass. Copper connects all the pieces together.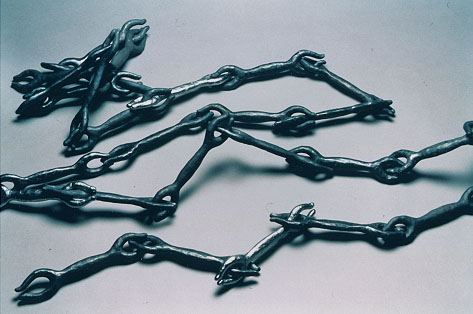 Metal Links
Cast Iron and 3 have crome on surface.
each 2"x 10" x 1/2" Total 31
Another way of rendering Metal Links.
See pictures of unfinished work
See pictures of work being made