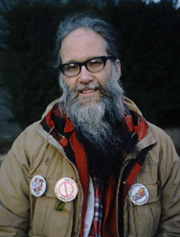 &nbsplen tower (22k jpeg) no gifs due to patent problems - other images - surfing
my alternative home page, sheri's and bill t's page on me, me @ myspace, live journal,
Let the beauty we love be what we do. - Rumi
i live to help my special friends ill with Alzheimer's Disease, MS - Multiple Sclerosis, Sleep Apnea, and/or CFIDS - Chronic Fatigue and Immune Dysfunction Syndrome...

i live to help make the world a better place ...

e.g., by eating as a herbivore - a strict vegetarian - a vegan,

by treading lightly on the Earth and its people,
by reducing, reusing, and recycling,
by being car-free -- using shoes, bicycles, public transit, and rental cars instead,
by supporting Oneness Productions which offers holistic workshops in Boston at the Arlington Street Church,
by supporting the Goudreau Museum of Mathematics In Art and Science (note unofficial alternative site 1),
and by supporting Alpha Phi Omega, National Service Fraternity, it's Alpha Chi Chapter at MIT, their family tree, Alumni Association, and letterpress print shop.

i live to help make the world a more cooperative place ...

e.g., by supporting both the World Wide Programming Freedom movement, and the World Wide Free Software movement
to provide a complete set of freely redistributable software to all. I use to work extensively on the GNU Project.

i live to be ever learning, ever fascinated, ever creating ...

... websight pages i wrote ...

soul and spirit, The Artist's Way, community, reading, architecture, art, poems, koans, psychology, snapshots and graphics, hpvs (human powered vehicles), sunsets and sunrises, beaches, gardens (especially Japanese gardens), iris, roses, wind chimes, DUKW tours, my alternative home page, surfing, ...

... other's pages ...

my bookmarks, romance, activism, alternatives, origami, hacks, non-profits, letter pressing, printing, graphic arts, eclipses, the alphabet, myths and legends, go, the DIZ, ...

i have lived, played, worked, and enjoyed along the way ...


and have even written a short autobiography.
comments welcome! enjoy -len
| | | |
| --- | --- | --- |
| tower | @ | art.net |
| tower | @ | alum.mit.edu |


Leonard H. Tower Jr. (28k jpeg) (215k jpeg)
36 Porter Street (67k jpeg),         no gifs due to patent problems
Somerville, MA  02143, USA
+1 617 623 7739
No FAX

---
updated: Wed Jun 20 14:09:51 2012
---