On the bright beach one day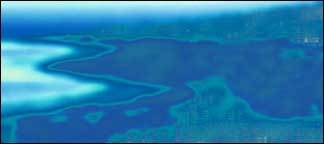 On the white beach one day she stooped and uncovered a fat lump
of what we could not tell.
She held it out to me with the smile of her delight
transforming her face and puzzlement dancing brightly in her eyes.
Cesca loved a mystery!
What was this? What was this? We could not think.
Animal, vegetable, mineral, the sea had infinite mysteries.
The lump was pale, a flattened sphere, puddled, gray, beige.
"Look," Cesca touched it with a fingertip,
"Isn't it like an Indian head nickel? And see, here, here is the buffalo."
"But it's as big as a dinner plate!"
Cesca lifted a shoulder enigmatically.
The sea held a myriad unknown possibilities.

The day was warm, sunny, a bubble of pure peace
captured out of time.
Even the pelicans old, gray, with scarred bills, believed it,
and so did the tangled gull. Cesca took it into her hands and unwound the cord which cut and held it.
"It'll die," Iris was perempt. Vanessa behind her looked a lament.
"It might not." Cesca continued.
"Whether it does or it doesn't, what difference does it make? Millions of birds living and dying, what difference does it make?" Flo was cross. She was tired, I suppose.
Cesca placed the bird on its feet in the sand. It tipped its head, eyeing us. "Have you ever heard about the horseshoe crab?" With all the dazzling light about us, how could Cesca's eyes remain so dark?

We were at the seashore where the waves whispered inside honeycombed caves. The sun was so warm, the sea so fragrant, the sound of the waves striking the sand delicious. Gulls called and cried. I was nearly asleep. "Did you speak? Cesca?"
"No, it's nothing. Go back to sleep." Her shadow brushed across my face.
After a time....
(Alma) I thought I was at the seashore where the waves whispered inside honeycombed caves.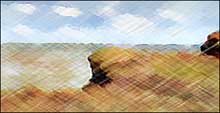 ....the Earth turned.