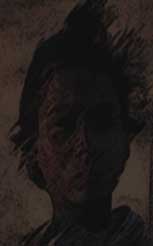 Wind whined through torturous tunnels in rock.
"We will find her. We won't leave without her."
The knife flashed.
It drove down, seeking soft flesh and tepid blood
Lights flashed, strobed, swept, changed all.
I would never let them have her.
"You're little Alma, aren't you? You look just like...."
(Georgina) I will destroy her.
(Zora) I will destroy her.
(Adonie) I promise you we will save her.
Who? Olive? Cella? Alma?
Who?