Drums were all around me; there was no source.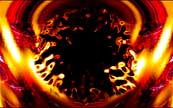 Drums were everywhere and the pulsing living hearts were all around everywhere like a forest of jellyfish floating gathering drifting beating softly tepidly brushing against the skin of submerged me.
Swaying and screaming, moaning, calling, wide-eyed and silent the seekers swayed in participation and expectation as the sacrifice was made.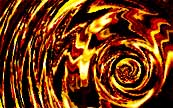 Blood streamed down over the stone and flowed into the streaming river of voices and they who swayed and called and clasped one another and lifted their urgent cups waited to cross the river and through it obtain their portion of blood to drink or dash. Spots slashed, dipped, lifted to drift across the curiously tessellated vault high above. Lights pulsed and flushed beneath the darkened waters.
Adonie slipped into view and she had Olive gripped by the hand.
They were pursued.
I swept Olive up as Adonie spun to confront them. She struck out, ducked, slipped to one side and spinning struck again and again. I pushed Olive into a high niche and plunged into the fray. It was not distinguishable from the rest of the chaos to anyone but us.
I grabbed Adonie's shirt, felt it rip, grabbed more deeply and pitched her beyond the path of the gleaming knife as it struck down. She never saw it. I smashed a toothy face and slashed out with my boot sending another into the river. She slipped into it with scarcely a splash.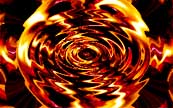 Olive clung to my back like a leech. Her dry cold little hands were clamped to my neck and her legs cinched my waist. Climbing in urgent lurches, gripping any point of wet rock I could, I pitched a glance over my shoulder. Adonie was still behind. She favored one knee but she was coming on steadily.
The swaying sea below us in the torchlights seemed more quiet. We were leaving them behind. We entered the narrow rocky shaft at midpoint and started up. I wanted to push Adonie before me but she motioned me on, and she was right. I bore Olive and it was she who must be got out at any cost and without delay.