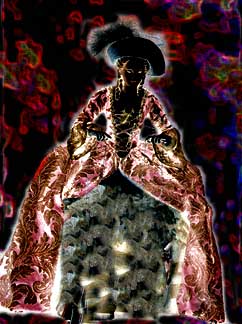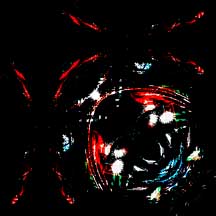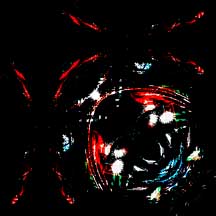 The tiers went up and up, spread round us, above, below, extended away outward and back from us into the shadows shimmering as if through murky veils of water while other portions were so brightly illumined they appeared metallic, vibrant in the way neon is vibrant, paled in places with their brilliancy.
The cavern, the fortress, shone; all its sharp points shone. Sharp as ice were the points, the folds and ridges which had formed these catacombs sunken in secrecy and obscurity, they were occult, in diverse ways.
The fortress, the spa, the child of Georgina's ravaged terrible and intimidating brain. She had grown great and unmanageable. That was apparent to me in the first minute.
Georgina? I thought. This was she? What she had been and was becoming.
All of this was a manifestation of her brain and her driving, ceaseless intent. It was her. We were inside her.
Echoes. The caverns echoed from their rugged cornices, from their eaten mouths bubbling with microbial tongues and blisters.
The lights played vividly over the entirety. Strobes and spots of many hues highlighted the colored rippling rocky formations so vast I instinctively searched them for clues to a monstrous physignomy. They splashed through the sequined caches on the walls rising up looped with entrances and observation niches.
This is where Georgina made her millions. She spun it from the rich and cut it from the poor. She took. She knew how. She never wavered and she learned new things all the time.
She had courage, I realized that. She feared nothing, no risk, no being, no event: nothing.
That was Georgina. She hated more than she had, more than anyone else, more than you could imagine, more than anyone else could sustain: more.
This was the antimatter of love.
This was still devotion, merely the focus had been shifted.