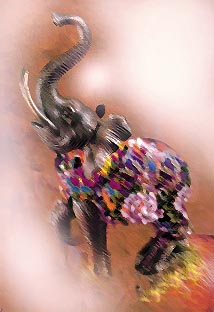 Violet's sister had been a sailor last of all.
She had the measures of the sea engraved within her smallest particles. She had the waves moving through her, the tides seeking her always the roiling and the gentle life of the waters was within her. Her eyes revealed this at times. Rarely did 1 find her hands without the ropes and spyglass, she needed no excuse: she went.
She took the seas of all the Earth and wound them through her brain and through her heart and colored them to give them life.
Violet's sister sifted the seas, the China Sea where she ran before winds strumming the striped mandolin from the forecastle pressed the sqeeze box 'til gulls harassing the stern screaming dove into the green and mounting waters driven to such performance by her compelling strains.
The bowsprit braved the Preacher. That was her gallant crafting and her inspiration, her endeavor, the bold Preacher jutted his bearded chin before the mast, into the winds, into the foamy waters rushing to the cleaving keel like dolphins dancing with illustrious cartouche. It could be seen, it was all quite clear. She vowed the Preacher exercised an industry invincible, and then she laughed.
She played the tiny concertina all the way to India and the southern isle where went ashore to sample roast pig and fruit among thick trees and place bright brass about her wrists and a ring through her nose. Then she partook, being ready, of the revolution there wielding carven fired sword like lightning about her shining head.
She shook back her mane of hair and took up the broad belt burdened with coins from many lands real and not existing and not ready ever for the might of the ways and of the waves she went on skimming the crests like turrets skimmed by high hot balloons and laughing like that, dancing like Hindoo maidens she went on, on, in grace, ever singing secret rhymes and chimes of frigate birds for the brown pelicans and the seals who heard them 1st and marveled and blinked their weed brown eyes as her ship sailed boldly rigged up to San Francisco's wharves.
There she unloaded unmanageable energy, vibrant beauty, through the ruby-curtained palaces and sheds and took on freedmen and water and raced south in the teasing embrace of rogue winds in order to venture east.
This did not seem strange at all to she who had listened to sagas in shells and plunged the far abyssal deeps within the ringing
firmament
.