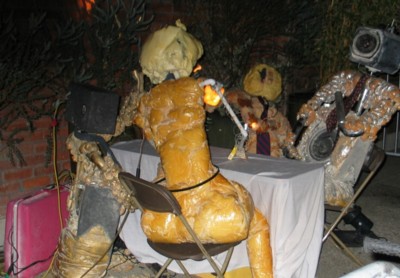 In conjunction with premiere showing of "Burning Man: Beyond Black Rock," sponsored by the Burning Man organization.
Club Mighty, 119 Utah st. San Francisco, CA. Oct 8, 2004.


Full installation outside the club. Three mics placed in planters, one inside the club. This was the first fully documented installation, and the first one to run on software rather than outboard audio processing units.

Mayhem, an Epic Arts performance showcase.
The Noodle Factory, Oakland, CA. May 17, 2003.

Full installation in hallway, with microphones placed in the hallway, the chillroom, and the main space. Recording available of Willy Bologna the Clown playing harp backwards as one of the aliens' voices.

Art that Moves II.
Cellspace, 2050 Bryant st. San Francisco, CA. Oct 26, 2002

Full installation with 6 aliens, and microphones placed around the space and near other kinetic sculptures to capture discussions about the exhibits.

Art that Moves, part of the International Mechanical, Kinetic & Electronic Arts Festival.
Crucible Steel Gallery, 2050 Bryant st. San Francisco, CA. Oct 2001

Partial installation with 2 aliens and 2 microphones.