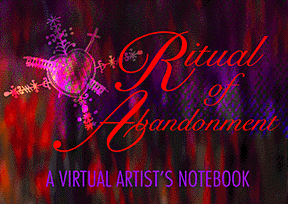 Inspiration
Two years ago, I fell in love.
That's how this all began.
I fell in love with someone I had never seen, never touched. Someone I only knew by communicating thru electronic mail and an occasional telephone call. And when I fell in love, I opened myself to a vast journey through an unchartered wilderness of emotions both light and dark.(980k .mov)

Ritual of Abandonment is my attempt to create signposts or roadmaps
about my travels along the way.

I don't know how it's going to end.
---
Acknowledgments

The women who posed for the Ritual of Abandonment series are all members of
Fat Chance Belly Dance, a group based in San Francisco, California. I am most grateful for their participation
in this ongoing project.
ARCHETYPAL SUPPORT.......................................MILES STRYKER
GUARDIAN ANGEL..............................................RON HIPSCHMAN
MULTIMEDIA GURUS..........................................JOE LACHOFF & SIGI TORINUS
HTML QUEEN.....................................................KIM FISHER

Grateful appreciation to my friends,
whose stories of abandonment have acted as a catalyst for my artistic process

for GVH
thank you for asking to see my face
---