When I entered, it was late; night had fallen.
Adonie must have come in late, too, for she was slouched in a chair with her legs stretched out before her and her ankles crossed. A carton of apple juice was on the table near her unopened accounts book.
Olive stood on an old scratched chair at the stove. In the dim light from the lantern Adonie had retrieved last week from the barn Olive's shadow made wild sketches upon the oily ecru wall. The paint in here was disgusting. I halted in the doorway, frowning.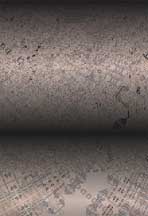 hey
Adonie looked up from her boots which she seemed to be studying. "Olive's offered to make us dinner."
I swore. What could she be thinking, letting that lawless and destructive dynamo loose at the stove with its serious irregularities and its pulsing blue flames?
Olive's skinny dark arms were stirring up a big bowl now, the one with a blue band around it discovered in the back of a cupboard. Carefully Olive transferred the ladle of batter to the black iron grill.
"She's decided on hotcakes," Adonie went on. "We hope that suits you, but we determined we hadn't a clue."
I sketched some lawless dynamic gesture of my own and left them to wash up.