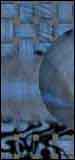 I have tried, once again, in concerted effort combined of all my intelligence, intuition, commitment and other components, to find a niche within my species.
It is impossible for me, I think.
I do not think I will try again.
I have found it the same as before. I cannot exist there. They will not let me exist. Me, as I am. But I must give up this and this and this essential element of me in order to be accepted into the realm and I cannot do it. I cannot pay such a price.
The roads and ways of life are scattered with the ruins of women who made the choice or were driven to pay the price in search of peace, of their very existence, but so extreme a compromise left no structure to stand. There was nothing left of them except a husk cast away and ignored. Can they be identified? Can their skins be read?
If I become what others wish in order to obtain some companionship, some sustenance of shared thought and desires, what will I be when they have gone? Everyone goes away, one way or another, I have learned.
I need a special friend, I do need that, it is a constant awareness and the lack a pain which never lessens but my nature does forbid it. I have discovered no other answer and no further way in all my searches.
I do not belong. I do not belong anywhere. I have no home, no place of rest where I am known. I am alone. I will go on alone. I will miss many things, but one cannot experience all in a lifetime and I will retain what is essential to me because I must. What bends me to my craft bends me away from other things I need, much as anyone with deficits or surfeits.
more