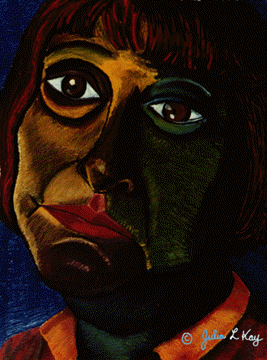 Smitty, 1992
Artwork by Julia L. Kay. Copyright 1992. All rights reserved.

---

How it was made:

This piece is 38&quot by 50&quot . (approx. 3 feet X 4 feet)
It is oil bar on paper, mounted on stretched canvas.
It was completed in 1992.

---

Julia's comments about the piece:
I worked on this piece for over 6 months, with the subject coming to sit for me for a few hours every week. This was an important piece for me as I made the transition from drawing to painting-- paint sticks are somewhere in between a pencil and a brush.