San Jose del Cabo
If you travel all the way down California to the very end of the peninsula, it turns into Mexico and you come to the tip of the land. The heat is intense all year round, but just about unbearable during the summer.

I spent a winter season at the ocean side palapa of my friend and agent, Ann, in San Jose del Cabo. Every morning she would climb from her hammock, walk the few steps to the sea and swim in the warm waters while I watched from the shade of the huge mango tree.
---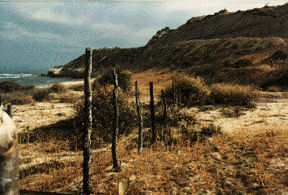 ---
As soon as I produced enough paintings she had a show and sold everything so I'd go back to work. This continued all season. Here is a picture of me working in my outdoor studio with the ocean in back.

In the village of San Jose del Cabo I was always on the lookout for a shady place where I could paint. The heat killed me. On a lucky day I could set up my French easel and paint some of the street scenes. Usually I took black and white photographs so I could study the values. Nothing about art ever came easy for me: not value organization, not drawing, not perspective, not color. Don't know why I ever identified as an artist, but a lot of us do.

Next you'll see some paintings with the photographs of the same scenes.

This way.