Strata's Garden Updates
Feb 7 First batch of seedlings, seeds, and peatpots. Nasturtium and primrose sixpacks, pair of dianthus in 3-inch pot. Gallon pot rose, bare-root climbing rose.
Feb 9 Sowed cherry tomatoes, peas in peat
Feb 15 Seedlings up and moved out of incubator; sowed lettuces, mediterranean cukes, standard tomatoes in rockwool
Feb 16 Potted the big rose, made color bowl of primroses
Feb 18 Transplanted tomato seedlings into temporary pots; planted bare-root rose; lettuce seeds in rockwool sprouting; pea seedlings set out into dirt
Time passes...All but one pea seedling disappears (?!) Somewhere in here I acquired 2 sixpacks of viola, one or two sixpacks of ornamental "champagne mix" poppies, and a couple 3-inch pots each of "bright lights" rainbow chard and zucchini. Planted all but the poppies out in the microgarden dirt area by the fence, put the poppies in an 18" bowl. Pea seedlings reappeared shifted a foot or so to one side-- bizarre. But glad to see them again. Probably squirrel digging, coinciding with Very Cold Nights convinced them to stay buried a while.
March 18 Put cucumbers, tomatoes, lettuces into hydropaks; started chiogga beets in peat, sowed saved 2003 cosmos seeds in big pot, started sweet peppers and odd heirloom summer squash in rockwool (5 plants total).
March 22 Transplanted another lingering cherry tomato seedling, plus 4-inch veggie-pot seedlings acquired the previous day on OSH run with my friend Laura, one each of lemon (round, yellow, but not flavored) cucumber, green globe summer squash, yellow crookneck summer squash, (all the above in Hydropaks), and lime thyme and lemon basil into pots.
Time passes again... Took a pic of the cucumber and lettuce and cherry tomato hydropak (you'll see it below) sometime in here. Was putting little plastic makeshift hotcaps on some of the more tender stuff, like the cucumber and some tomatoes, at night when it was getting into the mid 40's. Volunteer cilantro coming up like mad in last year's sweet pepper planter (I'd let it go to seed there, hoping this might happen). Poppies start tenatively blooming. Dianthus ditto.
April 4 Hydropak transplants of last of cherry tomato seedlings, plus new peppers from Santa Clara Master Gardner sale (Hungarian sweet paprika pepper, Santa Fe mildly hot (2 out of 8 scale) "Big Jim", and something or other di Asti, eg a gold bell type. Also found corners to tuck chiogga beets into various hydropaks. Rockwool sowed earlier dried out and literally blew away in storms after what seemed like long enough to germinate, but probably wasn't-- I should have moved it into the real incubator once that freed up again. Doh.
April 6 ...or thereabouts, rigged up a micro-greenhouse for the new large pepper seedlings, of our two patio footstools with bubble wrap overhead. Nasturtiums started blooming.
April 10 Went out and took pix. Can't see this in pix, but pepper plants and several tomato plants have blossoms on them. Need to start hotmixing the hydroponic solution for "setting fruit" stages! Poppies blooming well-- 8 - 10 at once, and I'm cutting weekly for vase inside. Yay!
May 8 More pix, scroll down to the end below the April pix. A couple of cucumbers and some tiny summer squash harvested, along with 2 or 3 snowpeas a day to munch on my way into work..
May 26 Switching to 'FloraMato' and 'FloraMicro(nutrients)' as original solutions with hydropaks are used up. Melon seedlings planted (again! first ones died, left hotcaps on them too long, stem wilt die-off); had a problem with autopak waterers, misted summer squash and caused some blossom-end rot, wups. Harvested crookneck and globe squashes before then, and keeping fingers crossed that new crooknecks will come in ok-- NOT misting, even if they wilt due to waterer malfunction! Have had a few lemon cukes to munch, I need to let them get bigger before picking them but it's hard to resist. :-) Nasturtiums mostly died, but coming back-- I decided to see if they would like a bit of lawn fertilizer. They most emphatically did NOT like that, sigh. Cilantro all bolting to seed, but gypsy yellow pepper was cut back strongly in early May and now has several good yellow peppers growing on it. Hungarian paprika pepper has a veritable crown of huge yellow peppers, waiting for them to turn red, yum. Santa Fe 'Big Jim' pepper also growing generously; harvested one the other day, still green. Mike said he can't taste it, but I and others who tried could feel a definite after-nip of respectable glow. If it's doing that well with all the cold weather, should be more than 'mild' later in the summer! Yellow globe italian pepper still spindly and unhappy-- harvested chiogga beets that were essentially taking over rather than peacefully being co-plantees, hope that helps.
Mid to late March, mediterranean cucumber and lettuce, cherry tomato and lettuce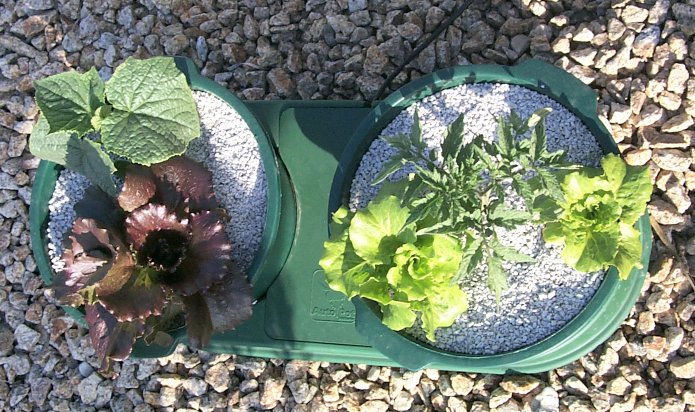 Today (April 11), mediterranean cucumber and lettuce, cherry tomato and lettuce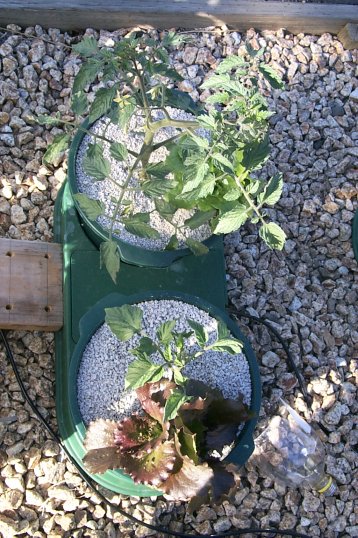 Cherry tomato by itself, mystery tomato (Brandywine, I think) and lettuce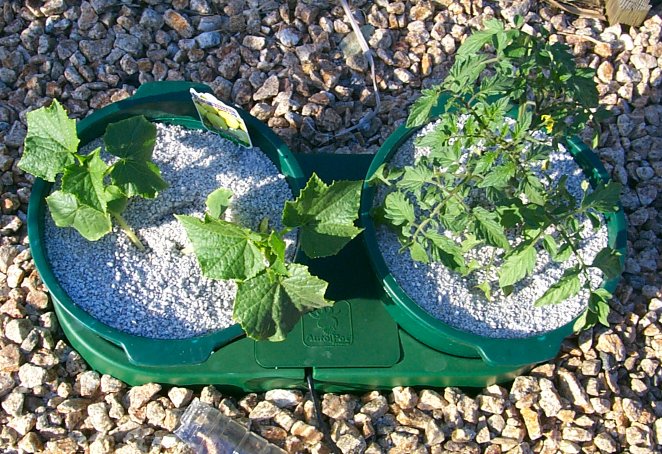 OSH lemon cukes and mystery tomato (standard? cherry? mystery!)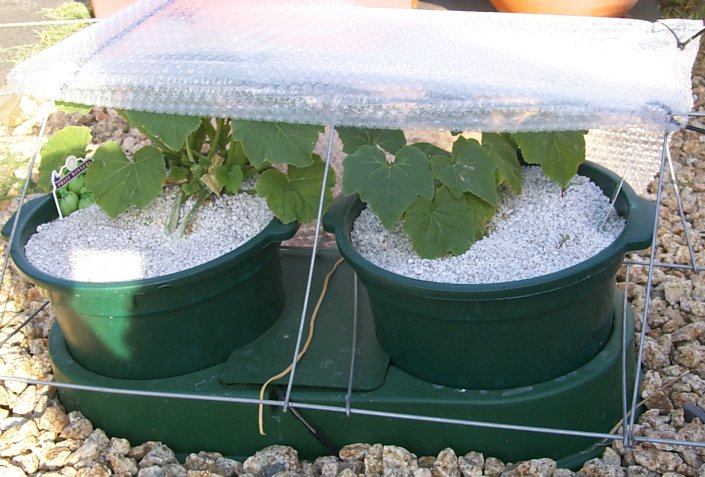 OSH green globe and yellow crookneck summer squashes, no longer looking marginal (keeping my fingers crossed!) since bubble wrap put over them for warmth.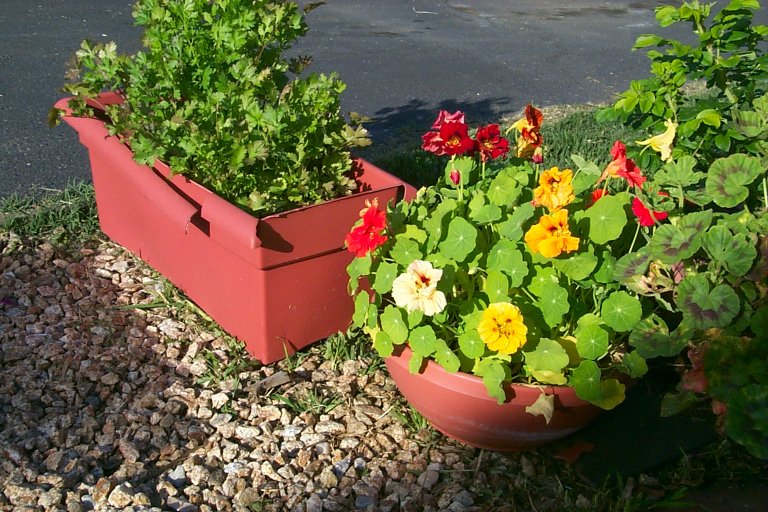 Volunteer cilantro, plus bowl of nasturtiums (an edible flower, though I'd rather just admire them)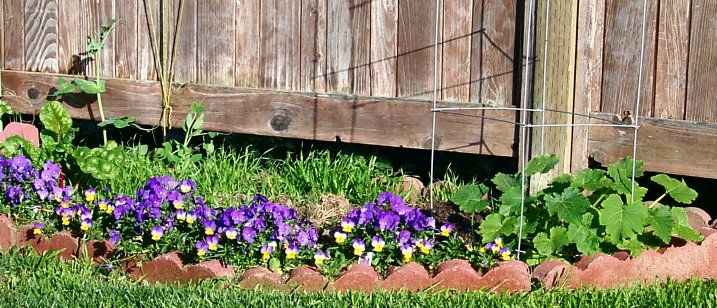 Back fence picogarden-- chard was just harvested Friday afternoon, so it's very small on the left. Violas (also edible) in front, the biggest pea seedling visible on the left, and the two OSH zucchini in the right front. They bloomed once, but didn't set fruit-- too cold, probably.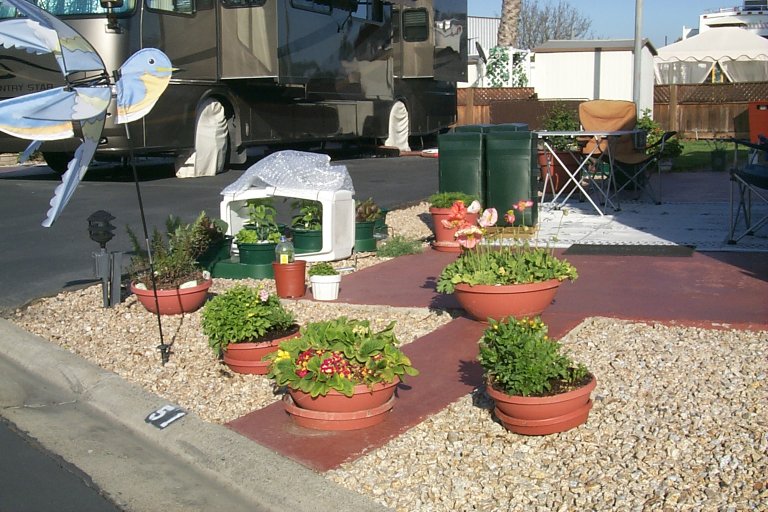 April 10 2004: Our front yard, showing most of the hydropaks and the makeshift "greenhouse" for the sweet peppers. Front color pot are primroses, two on either side of walkway are 2003 dahlias re-emerging slowly, tiny pots on corner of pad are lime thyme (white) and lemon basil (with hotcap, now no longer actively dying-- but not yet thriving either). Note fancy 2004 quarter to half million dollar coach-- new neighbors, taking advantage of beautiful lawn and rosebushes left by young family with 5th-wheel who moved out last weekend. Need to wash n wax Birdie, she looks very shabby next to this thing!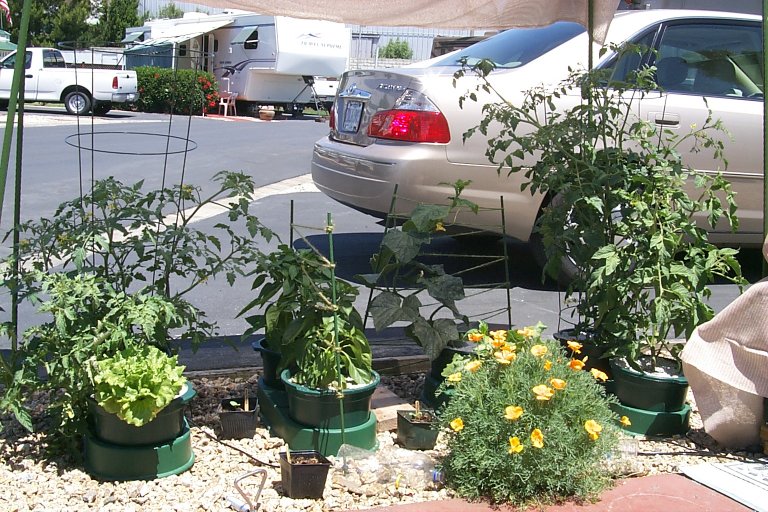 May 8 2004: Same yard, stuff has started taking off! The barely visible light green lump in last month's picture turned into this beautiful California poppy, seed that rooted from the potted ones I had last year. Other clumps tried to survive, but the Spritz of Death guy got 'em before I could mark 'em as poppies, sigh.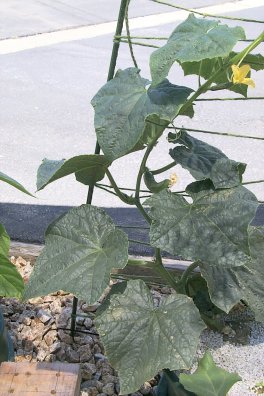 The cucumber has been quite prolific, and I have gotten around a dozen cukes so far (writing on May 26), most of which were about the size and diameter of a little fat sausage (think Aidell's), but the last 3 or 4 more like 'store-size' cukes, 8 - 10 inches long and a couple inches thick. Rinse and crunch for breakfast-- yum!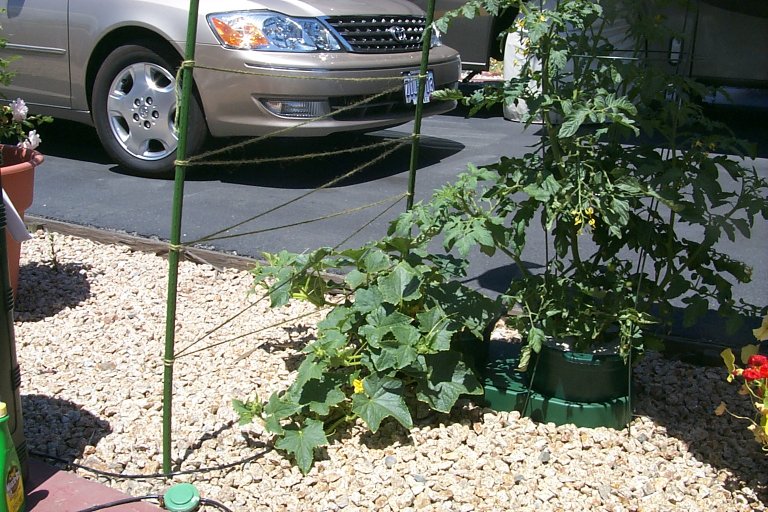 The lemon cucumber and the mystery tomato-- pretty sure it's a cherry, not a standard.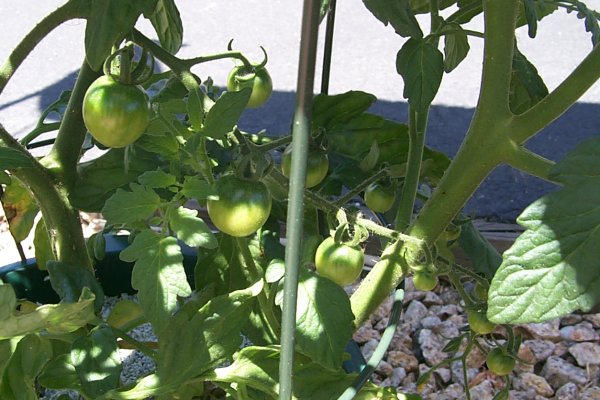 OK, you could ripen any time now, I'm ready!!