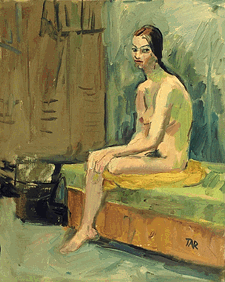 "Sitting Woman"
No. 3016022 - oil on canvas
For many years Mr. Tar was an active member of New York's "Art Student League". There, he found the opportunity to paint and draw nude models. He would complete these works in a single sitting, within about 2-3 hours. This wonderful piece features one of the beautiful models at the Art League. Mr. Tar captures her features with masterful expressive technique.

The exact completion date for this work is not known. We do know that it was completed sometime during the mid 1960's. The piece consists of oil paint on canvas.






---