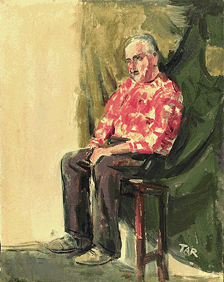 "The Man Next Door"
No. 3016015 - oil on canvas
Although the name of the man is not known, we do know that he was a neighbor living in the same New York apartment house where Mr. Tar and his family resided in the early 1960's. Mr. Tar would often invite friends and near strangers to sit as models. He loved to paint and draw figures of all kinds and found special joy in capturing expressive characters. Some of the works he created were given to the guest model as a gift and others remained in his possession.

The work consists of oil paint on canvas.








---