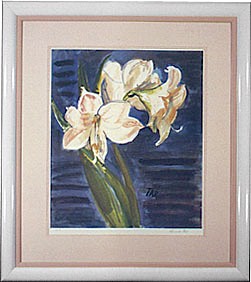 "Mom's"
No.1358022
S/N Limited Edition print.
Edition size: 170
Image: 23 x 20", Framed: 37 x 33"


---
This unique floral setting features a light-pink amaryllis blossom with a brushed blue background. The actual plant, a specimen from Mrs. Tar's house garden collection, was painted uncut, as it bloomed. The painting has become a trademark of sorts for Mr. Tar's floral work, appearing on the cover of catalogs and as a greeting card. Set aside for almost 6 years after completion, this work emerged during a photo session and has become one of Mr. Tar's most popular floral pieces.

Completed in early 1989, the original piece is a combination of watercolor and gouache paints set on fine French Arches paper. The signed and numbered limited edition print is produced on Strathmore 100% acid-free rag archival paper, 90 lb., in an edition size of 170 and an image size of 23x20".





---