Ralph Ivy's Studio
---
Welcome to my virtual studio space...
Below are entries for 'Notches,' the artist's on-going electronic journal of notes and sketches. Feedback is sought and I welcome comment via email: (rivy@art.net).
All the works are gifs - 800x600 with 256 colors.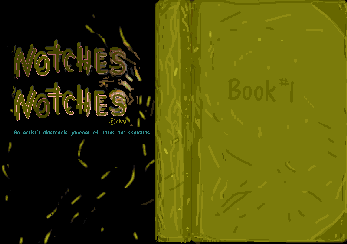 Artist's Journal/Sketchbook
I add or delete my signature on individual "pages" according to design considerations of the moment, but I asked that copyrights be respected. I have no objection to individuals playing with the individual images for their own pleasure or interest, but I ask such not be done for their own aggrandizement or gain.
My home address is 8 South Hill, Apt. 5, Fayetteville, AR 72701 I was born 8/7/38. (I am 56 years old.)
Thank you.
Ralph Ivy
---

Ralph Ivy rivy@art.net