Three images
of "Fear"
All rights of the artworks
reserved by the artist
(Marketta Leino) ©


marketta@art.net
Marketta Leino`s Studio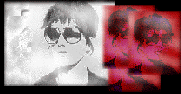 Marketta Leino comes from the group of the Turku (Åbo) area artists and is a pioneering fine arts computer artist in Finland. First solo exhibition in Jyväskylä 1995. Continuously involved with different art shows. Now dedicated especially to web art. An artist member of the US online gallery Art on the Net since 1995 and the Massurrealist Society International 1996.
In her art works likes Marketta Leino likes to investigate and search the history of Man with the evolution of New Age, which makes it a mysterious trip to outer space and under surfice. And the mystery will continue...