Pilchuck '95

When creating pieces in a kiln, the size of the kiln is a limiting factor.

I took a sand casting class at Pilchuck in the summer of '95 with Bertil Vallien. But that class didn't have access to the same big kilns as the year before (in a class by Gene Koss), so I had to work around that.

I had been experimenting with copper tubes and wire in my kiln work at CCAC. I was working on linking glass to glass or glass to some other media. I decided to use my kiln glass experiments and apply them to the sand cast glass method. Here are some of the results. I look at them as pure experiments and I am still working with what I got out of my stay at Pilchuck that summer. My stay in Kohler gave me an opportunity to work further with these forms in a different medium.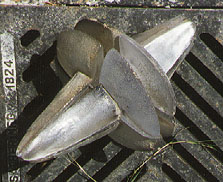 Eight glass pieces put together with copper tubes and copper wire.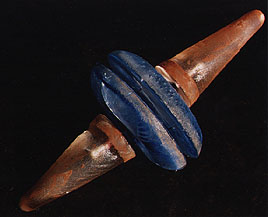 Four pieces of glass put together with copper tubes and wire.
Very fine glass color was sifted into the molds before the glass was poured into them.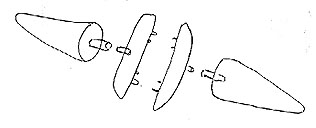 Drawing, showing how I put the pieces together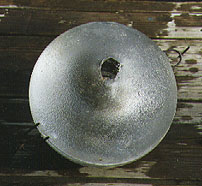 Two halves with cones on the inside that both have melted aluminum foil .
The two halfs are held together with copper wires that were placed in the sand sticking into the space that then got filled with glass.
| | |
| --- | --- |
| The drawings show how I made the two halfs. | |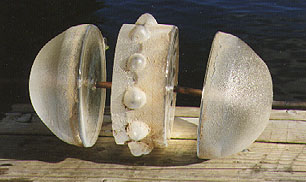 Two Halfs with a Middle
17,5"L x 8,5" x 8,5"
12 Kilos
The three halves are put together by having two different sizes of copper tubes going through the glass parts.