---
All images that have a colored frame around them can be clicked on to get a bigger picture, different view or detail of that piece. If a text is highlighted below that usually means another page with more images of that piece and sometimes also how it was made.
Pink Clay Form.
1' x 1' x 1'
Ceramic and clay cast glass that was heated up again and molded around copper wire
Green Link.

2 1/4' x 2' x 1'
| | |
| --- | --- |
| | Clay cast glass, slumped with copper and later a clay ring was added. The ceramic was tied together with copper wire and a hand carved wood splinter put in. |
---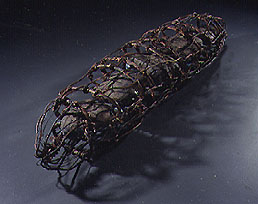 Bátsform (Boat form)
Clay cast and sand cast glass slumped together with copper. More copper was
inserted later and woven around the glass to create space under and above the glass.
For this show slip (clay in liquid state) was put on the floor and dried fast so lots of cracks formed do give it more natural dry clay look.
This was done to link it to nature.
Work photo: Clay Molds
| | |
| --- | --- |
| | |
| Bátsform. 6' x 1 1/4' x 1 1/4' | Detail of Bátsform |
Blue Form.

1 3/4" x 3/4" x 3/4 "

Clay cast glass, slumped with
copper. More copper inserted later.

Me in studio '95.

Part of Bátsform seen among older work.

I am holding "Blue Form", as it was before the copper was added.

To see more studio pictures

Detail of Blue Form


4' x 1 1/4' x 1'
Clay cast glass slumped with copper. More copper inserted later.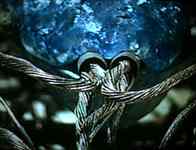 Detail of Blue Boat (front)
Same piece under different lighting. This piece is called Pink Form and is about 1' by 1' by 1'. It is made out of recycled Louie Glass that was cast in two separate clay molds. The bigger mold was smooth on the inside but the other rough. The glass stuck to the smaller mold and took with it some of the clay. The clay reminds me of snow on mountains in Iceland.
The piece was made in two stages. In the second stage, recycled copper wire was braided onto the bigger piece, copper tubes where put between the two pieces and everything was slumped together in the kiln.
I gave it to the Pilchuck auction '95

---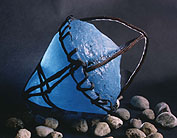 Blue Glass Form.
1' x 3/4' x 3/4'
The only piece that I totally finished in the Pilchuck residency.
The rest I finished in my own studio.
See the '96 page.