The Solo Show "Form" in Iceland 1996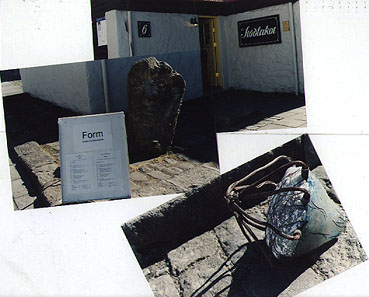 Gallery Stödlakot from the outside.
It is one of the oldest stone houses in Iceland, built around 1872. It served as a farm house in what is today the center of Reykjavik (the capital of Iceland).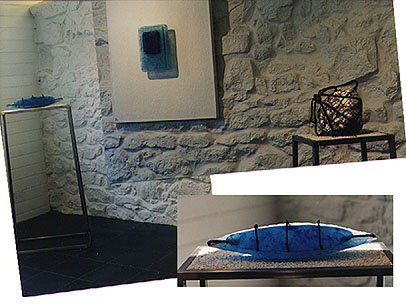 The house is very small so I decided to take my pictures and splice them together to give a better idea how the gallery owner decided to show off the stone and wood that was used in this house.
I designed my pedestals so they wouldn't take too much away from these walls. I also put some marble fragments on the top of the tables to play with the white paint on the stonewalls.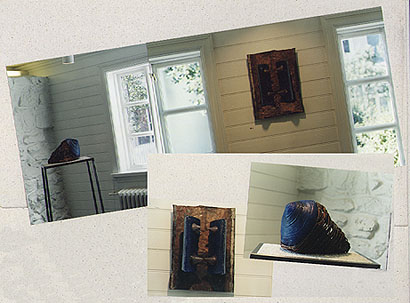 Blue Net Form and V-Pointed Form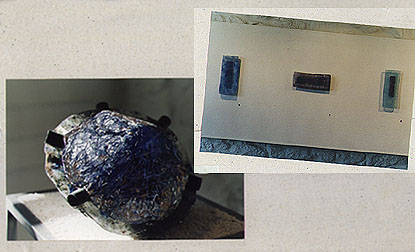 Blue and Green Form and some wall pieces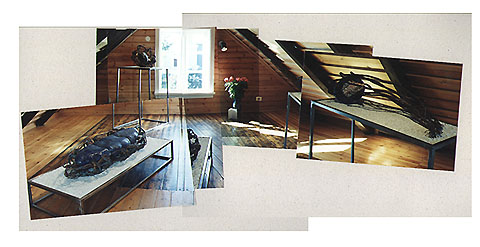 Three sculptures were upstairs:
Blue Boat Form, Form With Loose Ends and Blue and Yellow Form.
People used to sleep in such tight attics in Iceland and this house was no exception. There would be beds along the sliding roof for the kids, other family members and some workers.A table with a chair would be under the window and on the opposite end a bed for the farmer and his wife. This part of the house would be called "Badstofa"(Bathing Room).
Back to my home page