The Pacific Rim Sculptors Group Show
Container, Vessel, Shelter, Home
Curated by Clay Jensen Sculpture Faculty at CCAC
Show runs from: April 22nd- June 11th 1999
600 Townsend Street in San Francisco
600 Townsend Street is Open 9-5 M-F
Reception was: Wed. April 28th
5:30- 7:30
Artists in Show
Anders Barth
Alex Black
Lesley Cantor-Fallihee
Bob Chorak
Kristin Gudjonsdottir
Nikki Schrager
Jud Smith
Vickie Jo Sowell
Clayton Thiel
Ama Torrance
Click on framed images and high lighted text to get either a detail or a bigger image of sculpture.
---
Anders Barth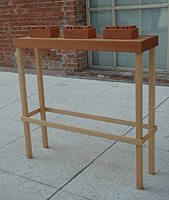 Hope/Home/Heart
Raw clay and Wood Table
More Pictures of Piece in Show:
See one example of her work at:
http://art.net/~prsg/html/bestprsg97/members/barth/barth.html
---
Alex Black
Power Poles
8' tall
Ceramic and Wood
© 1999
This piece comes from an exploration into totems that started four years ago during a summer spent in the solitude of the British Colombian wilderness. In the same way the native totems of BC express family lineage, these totems symbolize new ideas, solutions, and dreams. They hold new ways of thinking, new ways of seeing; hope.
See more of his work at:
http://www.lansharks.net/alex/
e-mail: ab@lansharks.net
PICTURES TAKEN OF POWER POLES IN SHOW
---
Lesley Cantor-Fallihee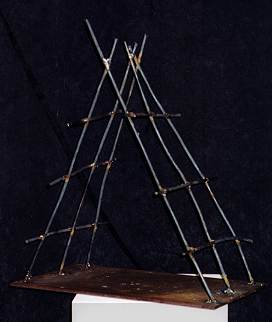 Winter's Home
(The picture above is the maquette for the piece. This sculpture is specially being made for this show)
Steel
22"H X 18"W x 11"D
Originally produced as a base that was to be bead covered and hold a woven pod.
e-mail: lesley@seriouswhimsy.com
SEE THE FINISHED SCULPTURE IN THE SHOW
BIG PICTURE OR SMALL
SEE ALSO
---
Bob Chorak
Rukus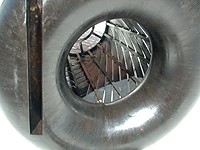 Steel and Bronze
36" x 36" x 36"
© 1999
e-mail: rukusboy@aol.com
ABOVE PICTURES OF "RUKUS" ARE TAKEN AT SHOW
ALSO
---
Kristin Gudjonsdottir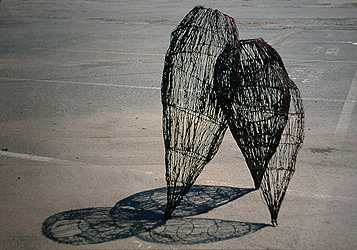 Net Form
Recycled electric wire still with plastic, wrapped around a frame made out of
aluminum wire. Smeared with tar and rolled in iron oxide.
Later I added black silicon where the tar was coming off.
50" x 3' x 3'
©1993
See more of her work at:
e-mail: stina@emf.net
ALSO
---
Nikki Schrager

Six by Twelve by Twelve
72" x 12" x 12"
Hardware Cloth and Stainless Steel
© 1997
SEE THE WORK IN SHOW
See one example of her work at:
http://www.yerbabuena.org/ggw96/events/schrager.htm
e-mail: Nikkette@aol.com
---
Jud Smith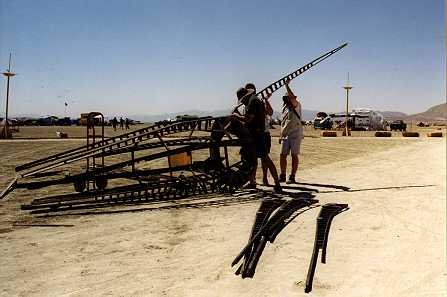 Relic Vessel
(This photo was taken at Burning Man '98 in Nevada.)
Plywood and PVC Pipe
8' x 6' x 40"
© 1998
THE VESSEL AT SHOW
---
Vickie Jo Sowell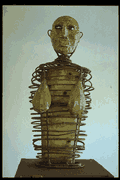 The Core
19" x 24" x 90"
Steel
Influenced by insular strength of african woman
© 1998
See more of her work at:
e-mail: Vickie@unrulyimages.com
ALSO
---
Clayton Thiel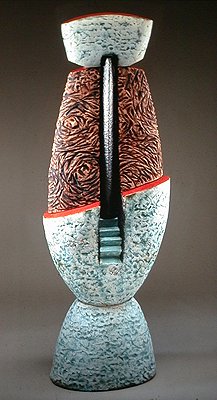 Beacon Stele
Ceramic
62" x 21" x 11"
© 1989
Information about Beacon Stele
See his work at:
http://members.aol.com/gargoylema/index.html
---
Ama Torrance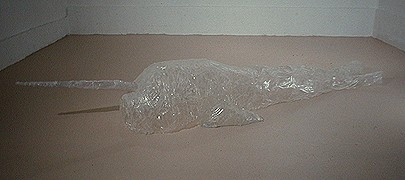 Narwhal
Fiberglass and Resin
15 feet long
©1998
NARWHAL AT SHOW
E-mail: amadavid@silcon.com
---
See also: The PRSG show at the Hayward City Hall