The Show Bátsform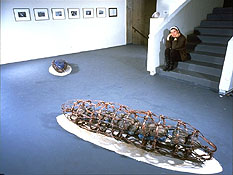 The show "Batsform" had three sculptures, along with black and white pictures of other works.
For this show I put slip (clay in liquid state) on the floor around the pieces. The slip cracks when it dries and creates a rugged outdoor athmosphere.
The three sculptures were:

Boat Form, Blue Boat Form and Pink Form

The black and white pictures on the wall
I like to take pictures of my work at the beach, which is also the source of many of my ideas.
I wanted to bring the feeling of a find on the beach into the gallery setting so I took some black and white photos of my work and showed them with few selected sculptures.This was somewhat similar to what I had tried with Neil Klein's photos in '94 just now my work was closer to nature. This reminded me of tools I saw while growing up.
See the text Not Knowing that went with the show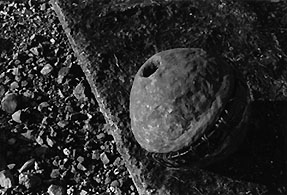 Form with Hole in Middle
clay and sand cast glass
1'x1'x1'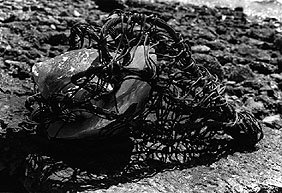 Blue and Yellow Form
clay cast glass, clay left on surface, copper wire
2' x 1 1/4' x 1 1/4 '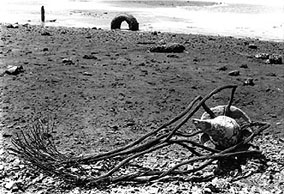 Form with Loose Ends
clay cast glass, clay left on glass, copper wire
~ 3 Feet long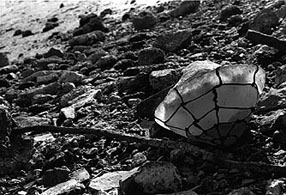 Pink Form
clay cast glass, clay left on glass and copper
1' x1' x 1'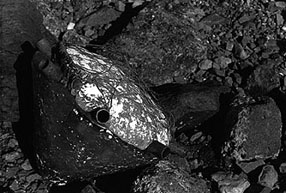 Blue Form
clay cast glass, clay left on glass and copper
3/4' x 3/4' x 3/4'