"Shattered Dreams"
"Shattered Dreams" is actually a portrait of my eldest son, Mark. I made this piece after he joined the Air Force. (I was more than a little upset.) The piece is made with broken and shattered computer parts including shattered silicon wafers. The hair is telephone wire and the bottom of the neck is a "wish board" that was non functional, all rest on a Satin Pillow.

This piece has won many awards in jurried exhibitions. Unfortunately the last time it was shown it was knocked off of it's pedestal and was SHATTERED! So I guess it earned it's name. Some day I may put it back together, but, it will then be a new and different piece.
Click on images for enlargements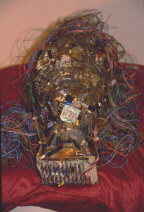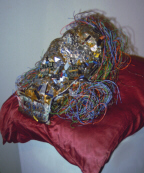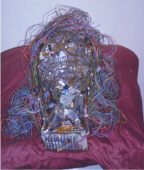 17" X 17" X 12"
---
Back to Sculpture Choices
---