Kendra K Davis
Linoleum Block Print Show
I discovered that I have an affinity with the block print when I realized that I was purchasing a lot of them. So, I then purchased the necessary supplies, rented a tape on the basics and began to carve and produce these images. All of my block prints are hand pulled without the use of a press. The editions are 25 or fewer.
Click on images for enlargements

Holy Family
8" x 10"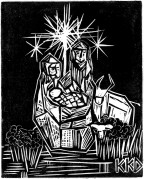 Holy Family #2
8" x 10"
The following three block prints are usually shown as a triptych with #1 in the middle
Angel #1 Linocut on Gold Leaf
8" x 10"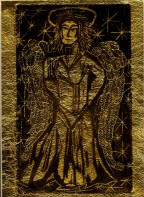 Angel #2 Linocut on Gold Leaf
4" x 5"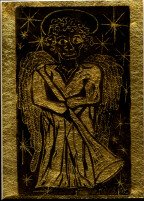 Angel #3 Linocut on Gold Leaf
4" x 5"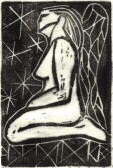 Kneeling Angel
2" x 3"
---